Oliver Page '19: Selfless Leadership
by Christina Egbert • April 25, 2019

Share:
Oliver Page '19 is quick to talk about the things he's not good at—things like baseball and video games. But then he gets quiet.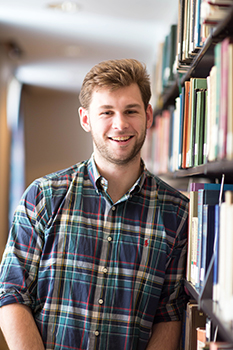 Page has served as student body president and a football captain. He was voted Sigma Chi president as a sophomore, and recently received his chapter's Province Balfour Award for most outstanding graduating senior and went on to win within the entire northern Indiana province.
But he won't admit he's a good leader.
Page became a starter on the football team his freshman year, and, in 2018, led the Wabash wide receivers with 37 catches for 446 yards and four touchdowns to help the Little Giants win a share of the conference title. Even after missing most of his junior season to injury, he still ranks eighth in career receptions and is tied for seventh place on the career touchdown receptions list.
But he won't admit he's a good football player.
"I just think that is hilarious because he is obviously amazing at both," said Artie Equihua '20, who followed in Page's shoes as both the president of Sigma Chi and a football captain. "He is one of the humblest individuals I have ever met. With all of his accomplishments, his inability to talk about himself really displays how selfless of a person he is."
It's hard to imagine that the same student who didn't hesitate to make a name for himself on campus grew up "dead set against" coming to Wabash.
"But then I visited," he said, "and it felt like home."
Page is one of twelve men in his family to attend Wabash—there's his father, Kevin '84, Joel '80, Tom '82, Matthew '13, Ben '18, Luke '18, Jake '21, and Andrew '22. There's also Peter '82, Michael '14, and John '21 Witczak.
He grew up coming to campus for Monon Bell games but never faced any pressure to attend. In his immediate family, he was the only boy with three sisters. Looking back, he thinks Wabash was just what he was looking for.
"I used to pray at night that my mom would come home with a son," he said, "so I think I always craved brotherhood and that connection."
"And the bookstore smells the exact same," he laughed.
Page was recruited to play baseball (which, remember, he says he's not very good at).
"Really late in the process, (Head Football) Coach Morel called me and left me a voicemail," Page said. "I think what happened was the first 12 guys he was looking at all said no. So he was like, 'Who's next on the list?'"
He played quarterback at his high school in South Bend but ended up switching to wide receiver only a couple of weeks into his first camp.
"When you're a QB, you learn the whole offense," Page said. "You're responsible for knowing everything. So I feel like, in terms of the cerebral part, it wasn't too big of a transition. Now learning to run and catch at the same time? That took a few weeks."
After taking English 219—American Literature before 1900—his freshman year with Dr. Rosenberg, he decided to become an English major.
"The stuff we read, I still use to this day," he said. "Ralph Waldo Emerson has an essay called Self-Reliance, and that's the one that's stuck with me the most. My dad and I also both studied Moby Dickunder Prof. Rosenberg, so that was fun."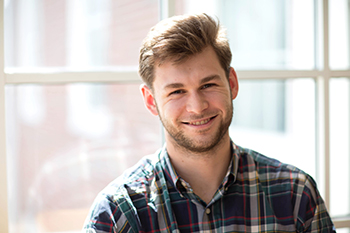 Page's love of reading and sports came together through an internship with Professor of Rhetoric Todd McDorman the summer of 2018.
The internship was divided into two projects. The first was related to McDorman's potential book project on baseball player Pete Rose and consisted of organizing more than 1,000 sources and producing a 50-page bibliography, ordered alphabetically and cross-referenced by year.
"The work required attention to detail as well as a certain sort of resolve," McDorman said. "Oliver continues to discuss the research project with me—he set up a google alert on Pete Rose and draws my attention to new information when he sees it. He seems to particularly enjoy the TMZ stories."
The second part of the internship helped break up the monotony of the first. McDorman was preparing to teach a new freshman tutorial on Harry Potter, and Page read several books and provided notes and recommendations in terms of their value, argumentation, clarity, and accessibility for freshmen.
"I included a number of his recommendations in the course," McDorman said. "Based on that work, I asked Oliver to serve as a mentor in the tutorial. He attended class sessions, served as a speech and writing tutor for class members, and helped students with their transition to college."
Even though they met in the Sigma Chi house and not in a classroom, Equihua says Page became an "instant role model" to him as a freshman. He has experienced firsthand the impact Page can have on students trying to find their way at Wabash.
"His opinions carry great weight because he is so well respected," Equihua said. "The thing I admire most about Oliver is his ability to empathize with various perspectives outside of his own. He is so cognizant of other people and their emotions, which really enhances his ability to lead others."
As Page prepares to leave Wabash, even though he doesn't yet know what his post-graduation plans are, his thoughts still revolve around others.
"The biggest lesson Wabash has taught me is the value of relationships," he said. "I've met so many people. And making people feel welcome—no matter what I do or where I go—that's something that will always have value."