It's 1821 and a fledgling theater company is preparing for a production of Shakespeare's Richard III. But it's not just any production. This performance is by a troupe of African American actors, who have been told that they are not capable of pulling it off. When crowds of white audiences fill the theater, a rival production goes to every length to shut it down.
Based on true events from the early 1800s, Carlyle Brown's play, The African Company Presents Richard III, asks the important question: "Who is able to tell another person's story?"
Guest Director Ansley Valentine, a 1990 Wabash College alumnus, brings the play to life at Ball Theater Wednesday through Saturday nights. Curtain is at 8 p.m. each evening and free tickets can be reserved at boxoffice@wabash.edu.
A theater major at Wabash, Valentine taught at the College of Wooster and is currently on the faculty at Indiana University, where he teaches theater and film and serves as a graduate student advisor. He likens his return to his alma mater nearly three decades later as a "flashback."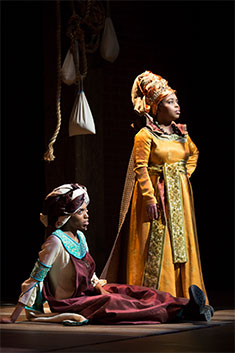 "It has been a lot of fun to come back to Wabash," Valentine said. "The best thing is just the fraternity that is Wabash. I can have a short-hand conversation with these guys because I know what their education is and what they're going through, and we quickly get on the same page. Just being able to blend the past and present has been really rewarding."
As for the play, Valentine says that it's been a very difficult, but gratifying challenge. Most of his actors are newcomers to the Wabash stage, which has required lessons on basic acting and the rhythms of Shakespeare, and — because of the play-within-a-play format — the actors have to evolve over the course of the production as their rehearsals lead to opening night.
"It has been a lot of work thus far and I wish we had more time," Valentine said, echoing the sentiments of every director of all-time as opening night looms. "We have some first-time actors, so we're working on translating the intellectual ideas into something physical and how we can embody these feelings. But we also have to teach the basics of acting and Shakespeare.
"The point of all of this is education, and it's nice because we're all here to learn something. Unlike at some other places I've been, at Wabash it's not all about the show. There are a lot of things in the mix that make it challenging and make it fun."
Those challenging and fun "things" include heavy and timely themes like self-understanding, immigration, racism, greed, and power. In addition, the play is lively and vibrant, and there are internal conversations among the actors within the play about Shakespeare's elegant English voice contrasted with their own black experiences.
Valentine says, "This play is as much about the immigrant experience as anything else. It's about a group of people trying to find a place where they can share their whole selves. We're doing this through the lens of 1820, but I think a lot of people will relate to the fundamental ideas: 'Who am I and how do I make myself seen?'"
Bringing the play to life are Wabash students Malcolm Lang, who plays Papa Shakespeare, Terian Garner as James Hewlett, and Christian Miller, who plays William Henry Brown.
Rounding out the ensemble are Adrianne Embry (one of Valentine's students at IU) as Ann Johnson, Aniqua Chatman (an actress from from Indianapolis) as Sarah, Robert Borland as Stephen Price, and Benny Wang as Constable-Man.
Valentine is proud of his performers. "The students, in particular the African American students, felt that they wanted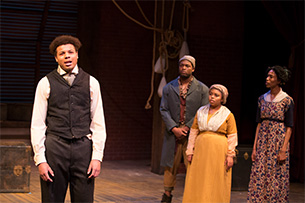 to be part of this because it's about representation... This is an opportunity to tell this story in an age of identity politics and when the civil conversation is not so wonderful. This is a way to address those questions, put them on in this dramatic fashion, and for the audience to discuss the question, 'How is this relevant to our lives today?'"
The production crew includes Aaron Boyd, Assistant Director; Danny Cuevas, Stage Manager; Latham Davies, Assistant Stage Manager; Bridgette Dreher, Scenic Designer; Andrea Bear, Costume Designer; Paul Haesemeyer, Assistant Costume Designer; Christopher Renk, Sound Designer; David Vogel, Lighting Designer; Logan Montgomery, Master Electrician; and John Wallace, Lighting Board Operator.