Wabash is a 'Sandbox' for David Riggs '20 
by Christina Egbert • November 16, 2018

Share:
David Riggs '20 calls Wabash his "sandbox."
It is a place that challenges him to create and shape his ideas.
As Riggs says, "It creates a space where it's OK to just fall flat on your face."
The freedom to fail he's found at Wabash has given Riggs quite the confidence boost, and people are noticing.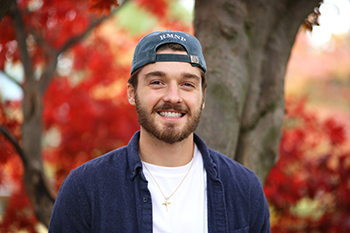 "A lot of times, people's doubts about what can go wrong in life keep them from taking chances to achieve great things," said long-time friend Isaac Myers '21. "David tackles the things he is passionate about."
It took a lot of that passion and confidence for this financial economics major to start his own digital marketing company.
"It's not a small switch at all!" Riggs laughed. "My dad works in a pretty public light as the director of public safety in Denver. He came to me about a year and a half ago and was like, 'How do I set up a Facebook page?'
"I thought it was ridiculous that he didn't know, but I helped him set it up. He said, 'You know, you could learn more and have people pay you to do this!'"
Riggs laughed and shrugged off the suggestion.
"I just kept managing his pages. I didn't know he was out sharing what I was doing for him."
His dad's behind-the-scenes work landed Riggs a lunch with the CEO of ESG Security, a private company that provides security for Bankers Life Fieldhouse, the Indianapolis Indians, and Indy Eleven, where he was asked to run their social media accounts.
The next month, he acquired four more clients – two of whom were speakers he had worked with at TEDxWabashCollege.
What started out as a way to earn a little extra money is now the company, SHIFT., and a much larger team, including Myers, who serves as co-founder and chief marketing officer.
SHIFT. took off through social media consulting and helped many Wabash clubs on campus with their accounts along the way. After Thanksgiving, they will start offering several services as a larger digital marketing agency, including website design, digital advertising, and content creation.
"I never thought it would actually turn into anything because I knew how busy with school I would be," Riggs said. "But now, if SHIFT. goes flat and we lose money on it…it might be small, but it's attached to my name."
The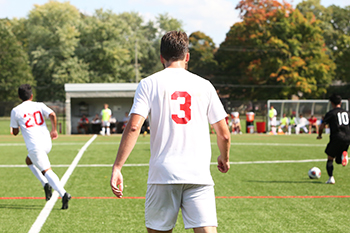 busyness he was worried about hasn't changed. On top of SHIFT. and – of course – his classes, he's an officer for Lambda Chi Alpha, the co-director of TEDxWabashCollege, one of the Sons of Wabash, and a starting member of the soccer team.
He keeps a regimented daily schedule – one that's maintained by three time-management priority apps! He also often reflects on his freshman tutorial with Dean of Students Mike Raters '85, where he learned he can only control so much.
"I never thought I'd be in a situation like this," Riggs said. "As college students, our confidence levels can go from 100-0 in an instant. So looking back now, I'm always surprised that I had the confidence to go for it and put myself out there."
His father, however, isn't surprised at all. His four favorite words?
"I told you so!"