Wabash Rises in U.S. News Liberal Arts College Rankings
by Richard Paige • September 10, 2018

Share:
Wabash College continues to deliver on its promise to provide an elite educational experience to a broad range of students. The College moved up nine spots in the Top Tier of National Liberal Arts Colleges ranked by U.S. News & World Report in its annual Best Colleges rankings, which were released Monday. More than 1,600 schools were graded in the report.
"We are pleased to have dramatically risen in this year's USNWR rankings, which can be directly attributed to our holistic, student-centered education," said Wabash President Gregory Hess. "Wabash College continues to provide an exceptional, transformative, and affordable liberal arts education to grateful students, and we have put additional systems and programs in place that provide support that is tailored to student's individual needs and that enhances their ability to flourish. Our improved retention and graduation rates, coupled with our exceptionally strong professional development program and devoted alumni network, give us reason to celebrate."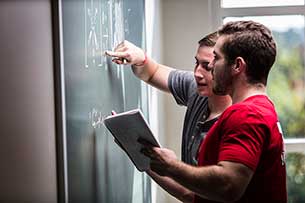 Wabash rose nine points in the U.S. News rankings of National Liberal Arts Colleges. Additionally, the College saw its graduation and retention rank improve by 11 points due to strong freshman retention (88%). Wabash's actual graduation rate outperformed the predicted graduation rate by three percentage points.
The College was ranked No. 22 nationally by U.S. News in Best Undergraduate Teaching, a measure of peer institutions where "the faculty has an unusually strong commitment to undergraduate teaching."
"I am especially pleased to have our strong standing in retention and graduation rates recognized," said Dr. Scott E. Feller, Dean of the College and Professor of Chemistry. "These metrics of student success reflect both the long-standing, student-centered culture of the college and the innovative programming, such as the Wabash Liberal Arts Immersion Program, developed by our faculty and staff over the past several years. Further, being named a top school for undergraduate teaching is well deserved recognition of my faculty colleagues. They take seriously our mission to educate young men and our ranking shows that this good work is appreciated by higher education leaders across the country."
U.S. News also honored Wabash as an A+ School for B Students, an institution "where spirit and hard work could make all the difference to admissions," according to the publication's criteria.
The U.S. News rankings are based on a weighted breakdown of the following criteria: outcomes (35%), faculty resources (20%), expert opinion (20%), financial resources (10%), student excellence (10%), and alumni giving (5%). Wabash's listed alumni giving rate of 40% places the school in the top-15 liberal arts schools nationally.
These rankings come on the heels of Wabash being named one of the best institutions for undergraduate education by the Princeton Review in its 2019 listing of the top 384 schools across the country, ranking No. 4 for the "Most Accessible Professors" and No. 10 for "Professors Get High Marks."
The College's Schroeder Center for Career Development ranked No. 2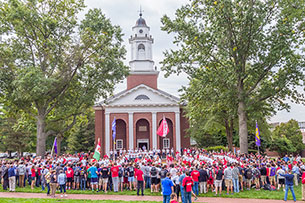 nationally in "Best School for Internships" to go with a No. 6 rating in "Best Career Services."
Wabash was named one of the top institutions in the Midwest and was listed No. 2 nationally in "Best Alumni Network," No. 18 among the top-50 "Colleges That Pay You Back" — a national designation that factors in career placement, financial aid, and career earnings following graduation, and No. 19 in "Colleges That Pay You Back Without Aid."
Additionally, Wabash was one of 40 schools nationally to be included in the bestselling book, Colleges That Change Lives: 40 Schools That Will Change the Way You Think About Colleges.