Reifeis, McAuley an Unlikely, Unstoppable Partnership
by Christina Egbert • April 26, 2018

Share:
2010.
The first iPad was released that year.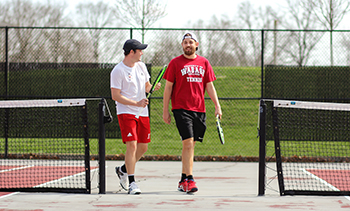 So was the first 3D-printed car.
And Bruno Mars loved us just the way we are.
That's also the year Will Reifeis '18 and Patrick McAuley '19, the Little Giants' No. 1 doubles team, began playing tennis together.
"That was a long time ago!" said Will, who doesn't even remember their very first game as partners.
The Indianapolis natives started playing together first in summer tournaments and then at North Central High School.
"It ended up working out pretty well," Patrick said.
By "pretty well," Patrick means the duo went undefeated his junior year (Will's senior year) and won the 2014 state title on their home courts.
This weekend they're heading back to North Central for the NCAC Tournament. Again – undefeated.
"It's pretty surreal," Patrick said. "Essentially we're in the exact same spot we were in just a few years ago."
Will agreed. "It's déjà vu."
Because there's a one-year age difference between the pair, Will was already at Wabash while Patrick was finishing high school. And then after graduating, Patrick spent a year at IUPUI before transferring here.
However, they still found time to play together during their off-seasons.
"There were definitely moments when I was like, 'It's not Will,'" Patrick said. "When you spend three years playing doubles together, you develop a chemistry on the court. When it wasn't with Will, it was definitely different."
It's no wonder Patrick describes those years by saying they "were separated." When the two are on the court, others describe them as an "old married couple."
"It's kind of weird. I mean, come on dude," Patrick said as he looked at Will. "We're pretty connected."
"We know what's going to happen on the doubles court," Will said. "We know both of us are going to do the right things. If I cross, he's going to cover for me. If I go down the line, he's going to be at the right spot. It's the chemistry."
But the chemistry wasn't always there.
"We weren't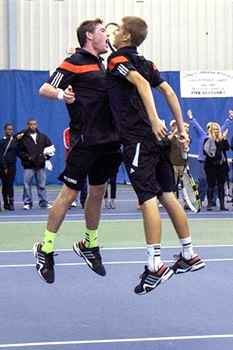 very close in high school," Patrick said.
"No," Will agreed. "We just played tennis together. A lot. Our second year playing together, our high school coach asked us, 'Do you guys even like each other?'"
"We're just so different," Patrick said.
Off the court, Will is quiet and a little introverted while Patrick is more extroverted and involved on campus.
On the court, it's a completely different story.
"I'm pretty even-keel for the most part," Patrick said. "I don't get mad after points. I don't scream and yell. I try to stay as positive as I can when I'm out there."
"I'm the guy that smashes rackets," Will said with a smile.
But they're both competitive. And they're both loud.
"If he hits a shot he's not supposed to hit or makes a move he's not supposed to make…" Will said. "At our last match, I started yelling at him."
"You get so mad at me sometimes, dude," Patrick said.
"In front of almost 70 people," Will continued, "I yelled, 'What are you doing??'"
Patrick laughed. "Yeah, you're kind of boisterous about it, which is good because you have to have an outlet. I'm the hype guy. When Will and I are warming up, I'm like, 'Let's go 'Bash!' or 'Let's go Willy!'"
"You do that a lot," Will said. "He's very loud. If a crowd is cheering against us, he'll try to be the one voice that's louder than all of them."
"It works!" Patrick said. "It definitely works!"
"They put a lot of pressure on each other," Wabash head coach Jason Hutchison said. "It's important for them to push each other's buttons in a good way. Opposites attract, and I think that's why their chemistry on court is always so good."
The duo is 23-0 heading into the conference tournament this weekend, but they've known since the beginning of the season that their main goal was to make – and win – nationals.
"We're in a good spot right now," Will said. "We're first in the region, but there are still things we need to work on."
"One thing that's been different for me this year is we've been playing with a lot of heart," Patrick said. "I guess we always have, but this year it's felt a little different."
"You always say that, but what does that mean?" Will asked Patrick.
Patrick started, "I think it's when you're out there…"
"Battling for every point?" Will finished.
"Right." Patrick said.
Even though Coach Hutchison wants to maintain focus and won't let himself think about nationals until the NCAA tells him they're in, he's definitely noticed the longtime partners' drive.
"I think the pressure they've put on themselves to really be good for the other person is what has really come through these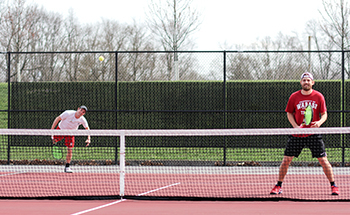 past two years."
"On a doubles court," Will said, "you're always playing for your partner. It doesn't matter who it is, but when you've played together for as long as we have, you try as hard as you can every point because you can't let your partner down. You can't disappoint him."
"My eyes are definitely on the prize," Patrick said, "but I also want to enjoy every single last minute on the court with Will, knowing that we've been playing together for this long and how far we've come to get to this point in our careers."