Jayvis Gonsalves' eyes light up whenever he talks about technology.
The senior flashes a huge smile as he describes his recent internship with Microsoft or the apps he created for Wabash College.
It's likely the same smile that crossed his face when he completed his first electronic circuit as a child with a lightbulb connected to a battery.
"I was just fascinated with it!" said Gonsalves, who was born and raised in Mumbai, India. "I began wondering how else I could apply that same technology, so I made a flashlight, adding more batteries and bulbs. After that, I made a little electric fan, and I just kept making bigger and bigger things like a remote-controlled car. Then I wanted to make robots."
When he was barely in middle school, he taught himself how to program using Java. In high school, his dream of building robots became a reality thanks to RoboWars, a competition within engineering schools like the Indian Institute of Technology.
"I looked into building this huge, 100-pound robot for these fighting competitions," he said. "Now, this was going to be ridiculously expensive, and there was no way I was going to be able to fund it on my own. So I created a sales pitch to find sponsors."
Such support helped Gonsalves wow the judges and his older competitors by allowing him to enter a cell phone-controlled robot, which he said was extremely advanced at the time for India.
When it came time to apply for college, Gonsalves felt he had already exhausted all of the resources that programs in India could provide.
"I wanted to study engineering, but I was already competing with the engineering schools," he explained. "I decided to apply abroad, but I didn't know anything about the whole application system. So I took a gap year to learn this country's admission system, and I decided to apply to a bunch of engineering and liberal arts colleges."
At first, engineering made the most sense for Gonsalves as a course of study because he wanted to continue working with technology. However, he realized that, if he ever wanted to sell the products he created, his technical knowledge not going to be enough.
"Some engineers are good with technology, but, I want to be able to understand the business aspect of it," he said. "I wanted to gain the financial skills I didn't have or wasn't really good at, so I decided to study financial economics at Wabash."
Gonsalves already has an impressive portfolio of products he's developed during his time at Wabash with the help of Career Services and the Center for Innovation, Business, and Entrepreneurship.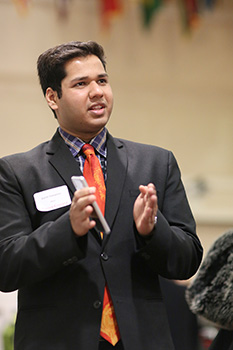 He built an app for the Office of Student Employment and Activities during his freshman year in order to streamline an unreliable and inefficient system. He built the app in his dorm room – the same place where he built his second app for Transportation Services, which allows mileage and gas to be recorded on smartphones.
"To stand out in this world, you have to have other activities beyond your major," he said. "And in the financial and entrepreneurial sectors, these apps I've created for Wabash could be a useful asset."
When he applied to intern at Microsoft during the summer of 2017, executives noticed his use of problem-solving skills to develop new technology and a proven ability to think of the return on investment when creating new products. They didn't hire him to be a software developer like he'd hoped; they hired him to be a program manager.
"The entire culture and the amount of responsibility that they give their interns was amazing," he said. "That was something that I absolutely loved, so I was extremely fortunate to receive that offer."
Gonsalves was put in charge of a feature within Windows 10 that had faced falling revenues. His task was to analyze the problems, fix them, and bring revenue back up. The end result was so successful that Microsoft was able to launch his team's feature as a platform of its own.
He came to Wabash with the engineering background. He's leaving Wabash with a much better understanding of economics. So which was more important to his accomplishments at Microsoft? Neither.
"Soft skills and networking were two of the most important skills I used," he said. "You have to know how to interact with someone and what to do with the advice given to you, and that is something I learned at Wabash."
After graduation, Gonsalves plans on returning to Microsoft as a Program Manager intern on the Windows and Devices Group with hopes of working there full-time in the future.