"I could feel myself shaking," Ben Johnson '18 remembers. "I was frustrated and passionate and needed to stand up and say what I thought."
Johnson wasn't in a classroom. He was halfway around the world at The New York Times Athens Democracy Forum in Greece, an event designed to address the shortcomings of democracy in the place it was founded. United Nations Secretary-General Antonio Guterres wrote in a message to attendees that the Forum presented an opportunity to "reconstruct relations between people and leaders – national and international."
Johnson was one of 23 students from 12 countries who were given a key role at the ADF. He was selected as a delegate by the Global Liberal Arts Alliance, the 29-member global partnership that works to strengthen education in the liberal arts and sciences and was an educational partner for the Forum. Delegates were charged to consider questions raised from the ADF's working theme, "Solutions for a Changing World," from a generational or national perspective. They were welcomed to take an active role, to push back.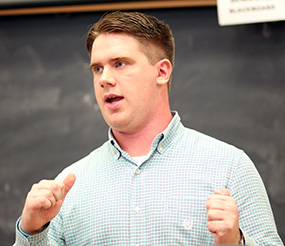 During a Q&A session, Johnson had the opportunity to rebut a statement made by Brian Smith, the president of the Europe, Middle East and Africa Group of the Coca-Cola Company, when the conversation shifted to corporations and job creation.
The son of a steelworker and a hospital human resource representative from Hobart, IN, Johnson felt his perspective – industrial middle America – was unique at the ADF. With well-paying manufacturing jobs disappearing due to automation, he wondered what opportunities and job training could be made available in these places that are directly affected?
"It was frustrating," Johnson said of the answer he received. "I understand what corporations bring to the economy and innovation, and I wanted to hear actual policy ideas like incentivizing trade school or offering coding classes to lower-income communities. It's not simply about jobs, but the underlying inequality."
The impact of that story – even told two months later in a lunchtime presentation to campus – wasn't lost on Jennifer Abbott, associate professor of rhetoric.
"Trembling as you were, you did it," she said. "It's the standing up and getting it out that matters. All those conversations matter."
Johnson found his ADF niche by conversing with and learning from a number of influential people within fields of international politics, economics, journalism, and film. The English major with a double minor in rhetoric and economics claims it was the hallmark of the liberal arts, the ability to think about subjects from different perspectives, that helped him connect with panelists and delegates.
"Wabash has instilled a deep desire to learn across different disciplines and find the connections," he said. "In conversations, I had the natural inclination to listen and learn, instead of imposing, which helped me draw connections and find common ground."
Johnson also got the opportunity to show off skills leading and facilitating discussions – skills he picked up at Wabash as a Democracy and Public Discourse fellow – when a scheduling error left his table without a facilitator or note taker during an ADF dialog session.
His confidence never wavered, even when a New York Times staffer suggested that doing both wasn't possible. "I can and I have," was Ben's reply.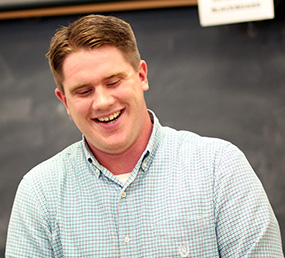 "That was cool," he continues, noting that the participants at his table came from the World Bank, United Nations, and UNESCO. "There was real value in it. I was able to absorb so much knowledge from some very impressive individuals."
The experiences interacting with some of the world's business and political leaders, as well as student delegates representing four continents, still resonates with Johnson.
"It was an incredible experience to work with people from all over the world," he says. "We all spoke different languages and had different skin colors, but we are a lot more similar than different. They were all very passionate and intelligent people who cared about democracy and were very politically involved."