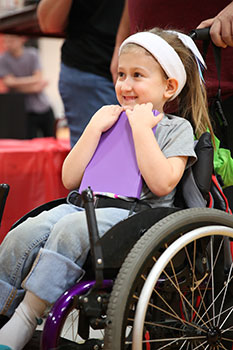 Seven-year-old Addison has been to a lot of Riley Dance Marathons. Born with severe spina bifida, she uses the speed her wheelchair provides to make sure she gets to say "hi" to as many people as possible. Her giddy smile is contagious, especially when she's in the bounce house and the momentum from other people's jumps sends her soaring through the air. When she shares her story to the crowds in front of her, she usually also finds time to sing to them.
But when she was at the Wabash College Riley Dance Marathon on Dec. 2, she got to request something that can't happen at any other marathon. She requested that the all-male executive team sing to her.
"She wanted us to sing 'Just the Way You Are' by Bruno Mars, and we did," WCRDM President Luke Rowles '19 said. 'That's what it's all about. It's about the kids."
The Wabash College Riley Dance Marathon has seven designated families they interact with frequently throughout the year, but there were two teen-aged twins inside Chadwick Court this year who hold a special place in Rowles' heart: his brother and sister.
The twins were born three months prematurely. His sister didn't have any complications, but his brother was born without his left ventricle and given a two percent chance of survival.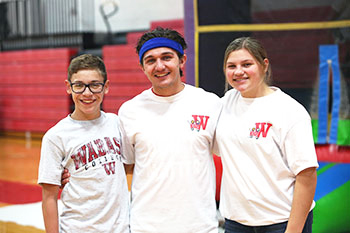 Rowles was seven years old when his siblings were born. At that age, he didn't fully grasp what was going on, but he still has vivid memories of sitting and waiting for his mom in the hallways by the NICU. When he wasn't staying at his grandma's house, he stayed with his parents in the Ronald McDonald House.
"They're why I dance," he said. "When I learned about this organization as a freshman, I knew I needed to be a part of it because I wouldn't have my brother or my sister without Riley."
The idea of being a very kid- and family-focused dance marathon is extremely important to Rowles and the other members of WCRDM. The organization has only been on campus for about three years, while other schools have been dancing for more than 20 years.
"We're so new and so small," Rowles said. "Indiana University's Dance Marathon raised $4.5 million. We're not going to be that big. I don't want to say never, but we don't have the capacity to raise like other schools do."
The all-male dance marathon raised $15,076.13 this year, surpassing their goal and bringing their total amount raised in three years to $36,465.12.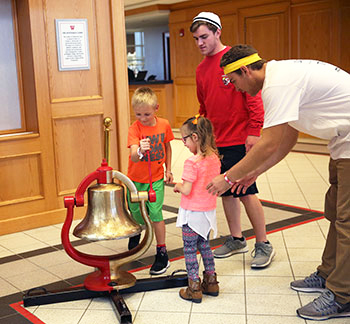 For Rowles, the biggest accomplishment is gaining four new Riley families this year. When WCRDM isn't dancing with the Riley kids and their families, they're going bowling or enjoying an athletic event with them. Some of the Riley kids even get to participate in coin tosses at Wabash football games.
"I was at the Dance Marathon leadership conference this past summer," Rowles said, "and someone said, 'If you want to know how to treat your families, go talk to Wabash College.' We're not going to raise the most money, but people are recognizing the difference that we're making because we really focus on the kids."