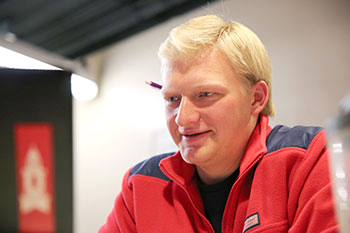 Erich Lange '19 has a saying when he talks to prospective Wabash students and their parents: "People come here because of the fear of being average."
It's a saying that has really stuck with people, so we decided to sit down with the Fairfield, OH, native with great insights.
Q: Why did you decide to become an orientation leader?
A: Looking back, I was just a scared, shaky, naïve, freshman. It's a complete shock, and you need that guiding peer. I had a great orientation leader who really helped me transition to college. To have that person you're going to see on campus who knows exactly what you're going through. So becoming an orientation leader myself was my way of saying that I love this place, and I wanted to share and instill that into freshmen, while letting them know it's okay to feel the way they're feeling.
Q: You are a political science and German double major. What kinds of opportunities have come out of that interesting matchup?
A: It's without a doubt changed the way I look at things. German has definitely helped because, when you read something in a language that's not your native language, you have to closely examine it to make sure you understand. And that's helped outside of the classroom because I know how to analyze what I'm looking at and break it down piece by piece. And political science has helped me think about things like, for instance, you have this law, so how does is apply to people or how is it palpable to everyday life? And both of those things helped in my internship at the Legal Aid Society in Louisville, KY. They're a non-profit that offers civil legal service for free, but, to qualify, you have to be at least 150% below the poverty line.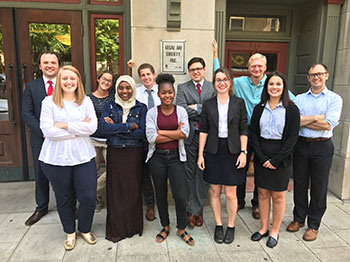 Q: What was that summer like for you?
A: I always said that if I had to describe it in one word, it'd be humbling. I still can't possibly understand what it's like to live like that. We may say that it's hard to pay the bills, but what if you can't pay your bills at all? If you don't have water, how do you cook? If you can't pay the rent, you get evicted. There are kids who go to school with empty stomachs. It's hard to see – to see people who are not that different from you living in a way that's very different from you. But, at the same time, you see these people who have dedicated their lives to helping others, and that kind of rekindles your faith in humanity.
Q: How do you think you've changed or grown in your time here at Wabash?
A: I think it's been an organic change. I always say that everybody in their first semester has that moment or that period of time when they ask themselves, 'Why the hell did I come here?' They have classes, work, and pledgeship, and probably see their friends out having a great time on a Tuesday night at their state school. And I tell prospective students that people come here because of the fear of being average, so you've already opened yourself up to let this place change you by coming here. People who come here want to be something great.
Q: Do you see that mindset in action on campus?
A: The more and more I go through Wabash, the more I see that's common throughout. I'm stealing this from the head baseball coach Jake Martin. You know you're in a culture of wanting to be something more when the people who stand out are the people who are not putting in the work. At other schools, the people who stand out are the ones who are in the library until 2 a.m. or are involved in all these different clubs. At Wabash, that's the bar.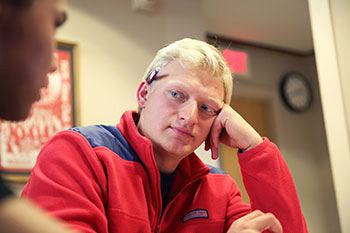 Q: What advice would you give to people experiencing a challenging first semester/first year?
A: Open up and talk. At times, this can be a very hyper-masculine environment where it's almost looked down upon to struggle or have emotions, but the counseling center with Kevin and Jamie is great when you need someone to listen. I make it a point to call home every Sunday afternoon. Family is only a phone call away, and they always know what to say. So call home. They miss you. And finally, everyone around you wants you to succeed. Even if you're a freshman and struggling and you talk to a pledge brother or a classmate who's also a freshman and struggling, it helps to know you're not alone and that people are here for you. It always helps me to talk and get things off my chest. You can ask my roommate. Sometimes I walk in, fall on the couch, and start ranting. You just need to get things off your chest sometimes. And people will make time for you here. People are busy, but no one is that busy 24/7.
Q: What would you say has been your favorite Wabash experience so far?
A: That's hard because I have all of these memories flooding back now. My freshman year, I hit a game-winning home run against Wittenberg in extra innings. That's a great memory. Getting initiated into your fraternity is always a great feeling. Every semester when you get your final grades and you feel really proud of what you accomplished. Monon Bell a couple of weeks ago was pretty great. But I think my favorite memories are probably the small times often swept under the rug. When you pass people on campus – faculty, staff, fellow students – you know every one of them truly cares about you. It's all of those little moments of community and fellowship that make this place special.