Thousands of people watched Henry WebberHunt make one of the biggest defensive plays in the 124th Monon Bell Classic. But ask him to share something that all of those people would be surprised to know about him, and the personable but often quiet senior defensive back can't contain his smile.
"I really like fish. I'm a fish nerd!"
The Indianapolis native has been obsessed with fish since he got his first one-and-a-half-gallon tank as a little boy. Now there's a 55-gallon tank at his parents' house. (Yes, if he could have brought his tank to his campus townhouse, he would've.)
"I've had aquariums all growing up," he said. "I like setting up tanks, learning about the fish and their behavior, watching them swim… I just like fish! They have their own personalities."
He used to name his fish when he was younger; today he knows them by their specific breeds.
When he came to Wabash, he knew he wanted to find a way he could get paid for his passion. That's when he learned about urban farming.
"You can take a warehouse that's empty and add LED lights, fish tanks, and stuff of that nature, and you can grow things more efficiently and in a more sustainable manner than conventional farming," he explained.
Eventually, WebberHunt wants to take a warehouse, retrofit it, and turn it into an urban farm using hydroponics and aquaponics. Aquaponics is the combination of aquaculture, raising fish, and hydroponics, the soil-less growing of plants, that grows fish and plants together in one integrated system. The fish waste provides an organic food source for the plants, and the plants naturally filter the water for the fish.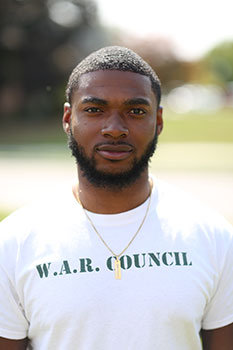 "We have to figure out a way to feed people," he said. "We talk so much about global warming and all the issues we have with our food production system now. This isn't the solution, but it's part of it."
He has no idea how long it's going to take him to reach his dream. He doesn't even really know what his next step will be after graduation. Whether they knew about his affinity for fins, people who know WebberHunt well know that he is driven enough to tackle any challenge.
"Henry presents himself as a very calm and low-key guy, but hiding below the surface is a real questioner, willing to wrestle with the big stuff," Professor of Religion Derek Nelson said. "I was impressed with him as a freshman in the religion and film class. We viewed films and read criticism of them that was not just challenging but very deep and in some ways kind of uncomfortable. But Henry dug in and went head-to-head with the senior majors in the course.
"He's diligent and friendly, but when I see him make a tackle on the football field, I'm glad I'm not on his bad side!"
Faith and football have always been important to WebberHunt. He grew up in a Christian household, and went to church every Sunday. His parents never forced their beliefs onto him, but they also never shied away from sharing them.
As WebberHunt was growing up, he watched their faith unfold as his dad fought cancer and his mom and his older sister dealt with other health issues.
"Just seeing them and their lives and how it's helped them in times of…" his voice trailed off. "I think we became closer through it. It was tough because it was out of my control, but faith and football allowed me to make it through."
His faith became an even bigger part of his life once he became a religion major.
"I realized I enjoyed learning about people's religions because it goes deeper than words and practices," WebberHunt said. "They effect societies and cultures. For me, it's helped me stay positive. No matter if I'm really stressed about a test or about my future, it's helped me breathe and relax and know that it's all going to be OK in the end."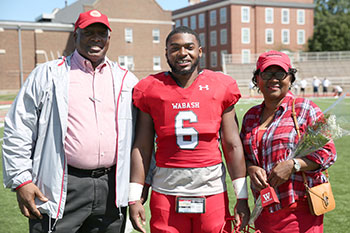 He explained that his faith, football, and campus organizations like the Malcolm X Institute and the campus ministry A.M.P.E.D. have helped keep him grounded these past four years. But his core support has come from the two people who have sat at the 50-yard-line of every Wabash football game he's played in – his parents, Ret. Col. Hank Webber and Dr. Patsy WebberHunt.
"My dad didn't play football or anything," he said, "but when he was on base, he started playing flag football. As I progressed, he started understanding more of what was going on, and I started talking to him about what I needed to do. They'll even travel to all of our away games."
"My parents have instilled in me certain values that I hold in myself, especially when it comes to success. It's about the process. It's about bettering yourself.
"I watch them and know what they've had to go through, and I've had such an easier route. My 'why' is my family. They've given me my drive. They're why I need to have an impact on a community."