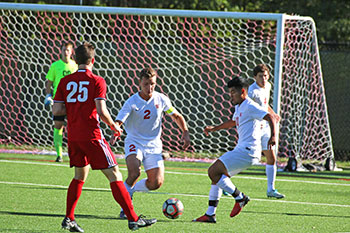 Spase Dorsuleski '18 gets a text message from his parents before every soccer game.
Good luck! Play your best! Score a goal for us!
The 2017 North Coast Athletic Conference Defensive Player of the Year finally scored his first goal of the season during the win against DePauw on Oct. 25. It was the first goal of the game – a game that clinched the team's spot in the conference tournament and gave Wabash soccer its first victory in Greencastle since 1999.
During the post-game celebration, most of the players found themselves in the middle of an excited and large group of fans gathered on the sidelines. Except for Dorsuleski.
After singing "Old Wabash," the captain ran straight into the stands. He found his mom, wrapped his arms around her, her sweatshirt clinched in his fists, and just cried.
"They kept asking, 'Why are you crying?' Dorsuleski laughed. "But it was emotional, and I felt like I needed to give a lot more credit to my parents. They always support me, and I couldn't be more grateful."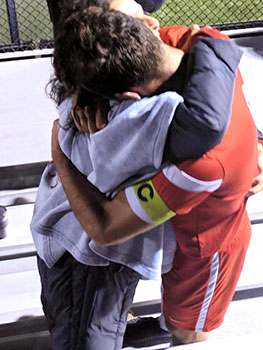 Dorsuleski's parents moved from Macedonia to Crown Point, IN, the year before he was born, bringing the country's – and his father's – love of soccer with them.
"My dad used to play in over-30 leagues," Dorsuleski said, "and before I started walking, he'd take me to the fields and have me there watching the game."
He can't really remember an age when there wasn't a soccer ball at his feet. If he wasn't playing, he was watching. By the time he was a teenager, Dorsuleski was practicing with his dad's over-30 league team.
"It really developed my skills, and it helped me mature quicker," he said. "A lot of times, when you play with guys the same age, they tend to get a little frustrated and emotional. When you play with older guys, they are more cool and collected. They're more mature about the game because they know what to expect."
Dorsuleski also credits his maturity, both on the soccer field and off, to a secret he began only sharing with people over the past two years.
"I'm a black belt in karate," he said, "and when people find out, they're shocked.
"It's more than fighting and doing form," the financial mathematics major continued. "It's building character, establishing leadership and discipline. You see the potential you have, and you strive to reach it. Once you do, you want to exceed it. That's what I want to keep doing in life."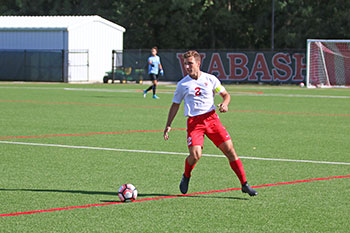 Dorsuleski strives to always live in the present, taking nothing for granted and enjoying each moment. Perhaps it's because of the constant reminder from his father that "America is the land of opportunity." Either way, Dorsuleski knows that his time here at Wabash is something he will never be able to live again.
It's that mindset that makes him smile every time he sees his Kappa Sigma brothers eating together in the house or in the stands cheering him on. It's why he never worried about the schools his team would eventually meet on the field; the only game that mattered was the next one.
"It's those times where you just live in the moment, you don't remember anything from the past and you don't worry about anything in the future," he said. "It's more fulfilling to live day-by-day because you experience more. You enjoy it more."
However, as much as he normally likes to go with the flow, every time he stepped onto a soccer field, it's like a switch is flipped for this all-conference player.
Before every game, he would listen to certain songs to get him into the "Kanye mood."
"Kanye is this really egotistical, stuck-up guy who knows he's the best," he said. "I try to go out there knowing I'm the best, wanting to lay it all on the line."
Dorsuleski was a sophomore on the Wabash team when they didn't make it to the conference tournament, and he remembered feeling like he let the seniors down. That feeling wasn't an option for his senior year.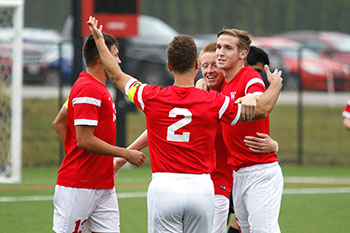 "Spase has been a tremendous asset to the soccer program and Wabash College," soccer coach Chris Keller said. "He is the prime example of what our great institution was built on – blue collar mentality and work ethic with a hunger to succeed. He has been a tenacious leader and teammate. We are very fortunate to have a man like Space at Wabash."
It's those characteristics that also help him know that, as hard as it will be to leave the game he loves, he'll be ready for whatever comes next.
"I've been around the game competitively my whole life, and now I'll be stepping away from that and focusing on other things in my life," he said. "It's going to be a big step. We'll see how I deal with it, but anything is possible. I look back now at last year and see how much has changed, and I can't wait to see what happens this next year."