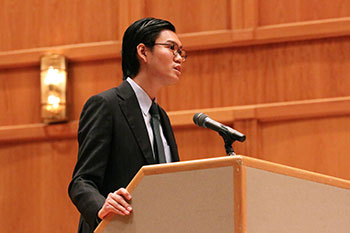 Imagine trying to make a point in an argument while being constantly interrupted before complete thoughts can make it out of your mouth.
Now imagine the people arguing with you are two state appellate judges, one of the state's top legal advocates, and one of your professors.
The former sounds frustrating. The latter seems downright terrifying, but that's exactly what students signed up for when they chose to participate in the 2017 Moot Court competition.
"It might sound crazy, but that's one of the things that makes it Wabash," Professor of Rhetoric Todd McDorman said. "Wabash students undertake Moot Court because it is a challenge that pushes them to be their best. At Wabash we say, 'It won't be easy, but it will be worth it' and 'Wabash Always Fights.' Moot Court captures that spirit."
Moot Court is a legal competition where students are given materials and coaching necessary for arguing a legal dispute adapted from an actual case pending before the United States Supreme Court.
This year's Moot Court problem involved a case to be heard by the Supreme Court in its 2017-18 term, which involves a baker refusing to bake a cake for a same-sex wedding. The problem given to the students was a variation of the original case and was written by Attorney Jane Ann Himsel.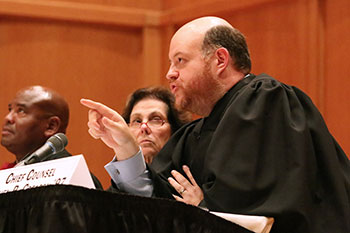 Stephen R. Creason '97, Chief Counsel, Office of the Indiana Attorney General called it "an impossible question."
"It was written by someone really cruel," Creason joked, knowing her husband, Associate Professor of Political Science Scott Himsel was right behind him, as Salter Hall erupted with laughter.
This competition began with 40 participants, 4.5 percent of the student body, and after two rounds, four students were chosen to compete in the final round: Walker Hedgepath '19, Jake Vermeulen '21, The Anh Pham '18, and Jacob Roehm '18.
After what McDorman and Himsel both agreed was the best Moot Court round they'd seen in years, it was The Anh Pham, a mathematics and political science double major from Vietnam, who came out on top.
"That's what makes his achievement that much more impressive," Himsel said. "It was his ability to work with words, his ability to go toe-to-toe with appellate judges and one of the leading legal advocates in our state, and to do it in a language and a culture not his own. That was a treat."
Pham is currently a student in Himsel's Constitutional Law class and decided to give the competition a shot because he's learned that law is something everyone should be knowledgeable about. In fact, he read the U.S. Constitution before he read Vietnam's.
"I feel a little ashamed that I hadn't read my motherland's constitution before I came here!" Pham laughed. "However, this competition and the Con Law class made me as a Vietnamese student less ignorant of the constitution of my own country."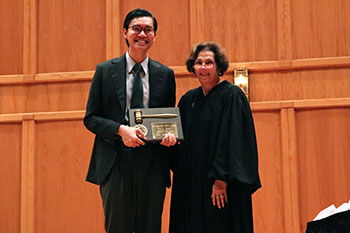 Even though he has no intention of going to law school, Himsel and some of the judges throughout the competition agreed that Pham's mathematical background might actually have given him a legal advantage because of the necessity in math to form logical arguments with very clear reasoning.
However, that doesn't mean it was easy.
The finalists, faculty members, alumni, and the judges had dinner together before the competition, which, Pham said, made him even more anxious.
"The process of talking to them made me nervous because now I know them better!" he laughed.
Even for Roehm and Hedgepath, both of whom were repeat finalists, the competition allows for only a certain level of comfort.
"It's certainly different the more you do it," Roehm said. "You're more prepared for the kinds of questions they may ask, but you're never going to be prepared for the specifics."
"I was a little bit more comfortable up there this time because I knew what it looked like, but you're still on edge," Hedgepath agreed.
First-semester freshman Vermeulen did not even expect to make it to the finals but agreed that the feeling of being up at the podium getting grilled by the judges feels every bit as scary as it looks.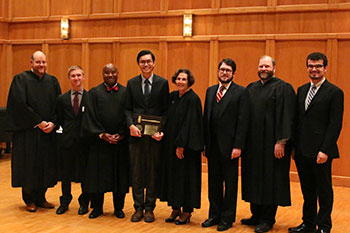 "Probably worse, if I'm being honest," he said. "It was terrifying, but in a good way. But it's a really unique thing to Wabash, and it's incredibly challenging from an intellectual standpoint. I think it encapsulates the Wabash experience I'm going to have really well."
At the end of the night, when the judges' questions were replaced with compliments and the finalists were eating cake in Littell Lobby (the joke was not lost on them at all), the joy that shown on Pham's face when he was announced the winner still hadn't left.
"There is a kind of playful sense of humility about him," Himsel said. "I really don't think he expects to achieve the things he can achieve, and just think what he'll be able to do."