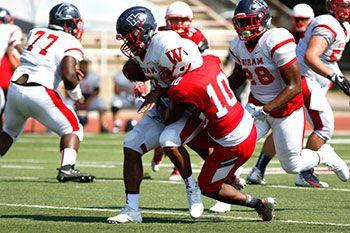 Byshup Rhodes '19 used to be afraid of the game of football. Now every offense this first team all-conference outside linebacker faces should be afraid of him.
Injuries kept him off the field for the majority of the past two seasons, but he's making up for lost time. We were able to learn more about this Texas native who's quickly making a name for himself on the football field in a recent Q&A session:
Q: How do you feel about how your season is going so far?
A: It's been all right. I want to do better – I want to take over these next five games.
Q: What do you mean all right? You were named Defensive Player of the Week by the conference last month after Hiram. That had to make you feel good about how you're playing.
A: That was a really good game. It felt good. I played hard. I wasn't worried about anything else; my mind was really on the game. Our coaches give out players of the game within the team, and I got it after Albion. So after Hiram, I thought I might get player of the game again. Coach Ramsey was talking to the team and said, 'Defensive Player of the Week – also of the conference – Byshup Rhodes,' and I was like 'What?!' It was definitely a surprise.
Q: How long have you been playing football?
A: (laughs) I used to be scared of it when I was about seven or eight, but then I played Madden. I was like, 'Wow! This game is so cool!' I finally got into a Little League when I was nine, and I was terrible. I was a little fat kid, so I looked up to (former Pittsburgh Steeler) Jerome Bettis. I wanted to play running back just like him, but I had to play offensive line. I played guard, I played tackle, I played tight end, which are all good positions, just not for me. Whenever you're fat in Little League, they just slap you on the line.
Q: That had to have been frustrating.
A: I wasn't any good, but I was listening. I always listened to everything they said, so eventually, when my body and my mind were able to catch up, I was able to do some good stuff. The more you play, the more you learn, and the more you love it. And I still talk to some of my Little League coaches. They're like my third, fourth, and fifth dads. They would teach football, but then they'd teach life.
Q: What was it like growing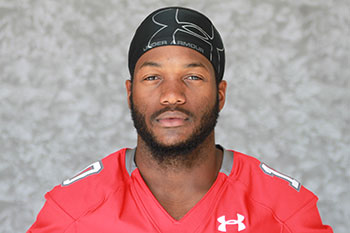 up playing football in Texas?
A: It's a religion there, but that's just how I grew up. In high school, we would easily play in front of 5,000 to 8,000 people on both sides. Senior year, we made it to the quarterfinals, and we were playing in front of 10,000-12,000. One of my favorite things about football aside from the teammates, coaches, and the game itself, is the fans. When you hear the fans roar, you want that all the time. So you go out there and try to make that big play.
Q: Did you come from a big football family?
A: Everybody played football, but everybody played different positions so they all had knowledge to give me. In the house, though, it's just me and my mom, but I see my pops and his side of the family all the time.
Q: Are you and your mom pretty close?
A: That's my best friend. That's my homie. She's everything.
Q: It must be hard being so far away from her then.
A: We talk every day. Well, we text at least. I don't call her as much as I should. We both don't like being on the phone, but if I call her, we'll talk for three hours. Being away from her sucks, but nothing scares me, and that's what she was building in me the entire time. I know she's good, and she knows I'm good.
Q: Why did you decide to come all the way to Wabash from central Texas?
A: Since freshman year of high school, me and my friends were just thinking 'D1, D1, D1.' Well I didn't get recruited by D1 because I was 5'9" and 185 pounds, but such is life. So then I was recruited by D3s, and Wabash was the best in football and academics. Coach Denham would call me all the time and ask, 'How's it going?' 'It's good.' 'How's mama?' 'She's good.' 'Listen. Check the website. Our network is great. Academics are great. Football is great.' Then he said, 'Oh yeah, and it's all male.' And I was like, '…oh really?' But then I figured, if it's all male, knowing myself, that would help out. I picked the road less traveled so that I could stay focused.
Q: What's been the biggest surprise for you during your time at Wabash so far?
A: I didn't think I would enjoy the non-female part, but it's actually kind of cool. Like I said, I know myself fairly well. You still get distracted here because you make super tight friends, but we're all people who are focused and driven. I remember walking in to the library freshman year thinking, 'Wow. There's a bunch of people in here.' Most people were just quiet, grinding. I was like, 'OK. This is what we do. We grind, and we get it done.'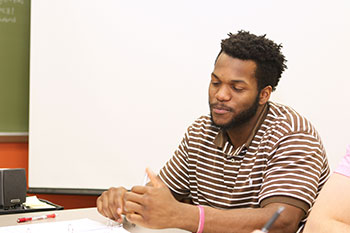 Q: You are an English major with a minor in education. What made you want to teach English?
A: It's weird because I don't like reading much, and that's been true since elementary school. I just feel like English is not so linear. It's not about solutions; it's about thinking. If you can think effectively, like we try to cultivate here, you can solve a lot of issues. Within yourself, your family, society, etc. Math might have a bunch of different ways to get to an answer, but for the most part you're following a formula. But with English, you read and you learn that one person thought one way and another person thought another way. You find your own solutions.
Q: What's your favorite part about being a member of the Wabash football team?
A: It's got to be game day. I've always thought traveling was more fun than home games, but being here is shifting that. It's cool going to someone else's house and beating them, but it's so cool being here playing in front of our fans because the next day you get, 'I saw you out there. Y'all played great. You had a good game,' and so on. Game day here is so hype, and that kind of surprised me too because I came from playing in front of thousands. And we play in front of about 3,500 here, and you still hear it. You still feel the energy.
Q: Would you consider yourself a leader on the team?
A: I want to be. I feel like I sort of am. If I'm not yet, I'll try to be. I'm a goofy guy, but I think I'm earning some respect with my play. I'm not perfect out there; I'm still making mistakes. But for the most part, I get the concepts. I get what teams are trying to do to us. More than that, we try to self-coach. If one person messed up and is kicking stuff around, two or three players go and say, 'Hey man. You can't do that. That's just going to bring us all down. You're a good player.' You have to lift your teammate up so we can all be good. You may be leading one practice or game, and then the next practice or game, you're having a bad couple of series. And then the guy you helped up last time will help you up. So I definitely want to be a leader, but I also just want to be one of the team.
Q: What is one thing you want to accomplish before you graduate?
A: It's kind of selfish, but I'd love to be an All-American, academic and athletic. I want to make the Dean's list because I haven't done that yet. I'm not too far – I've just got to keep working. And I want us to win a national championship. That's huge. I probably should've said that first. I really think we can with the defense we have. I think we can really go places.