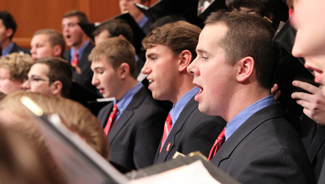 The Wabash College Glee Club and T-Tones are pleased to announce its Homecoming Concert at 7:30 p.m., Saturday, Sept. 23, in Salter Concert Hall in the Fine Arts Center.
The Homecoming Concert, under the direction of Reed Spencer, will feature Glee Club classics, like "Old Wabash" and "Brothers Sing On," as well as beautiful settings of poems by Robert Frost and Wendell Berry. The Glee Club is celebrating its 125th anniversary in 2017, and they are thrilled to kick off the season with this program. The concert is free and open to the public.
There will be tables set up after the Homecoming Concert to purchase tickets for the Glee Club's 125th Anniversary concert, which takes place the following week, September 29 at 7:30 p.m. The singers would love to see you at both of these exciting events.