The last thing filmmaker Russ Harbaugh '06 expects to be thrown his way these days is a football.
But I toss him one anyway, 60 minutes into our conversation about his latest film, Love After Love, in the stadium where he first rose to prominence as an all-state quarterback.
There in the bleachers at Evansville Bosse's Enlow Field, Harbaugh caresses the ball, feeling for the pebbles in the leather, his right hand searching for the comfortable spot on the laces as his eyes dart past me – almost downfield – before he
loosely mimes his throwing motion.
Love After Love, which premiered at the Tribeca Film Festival in April, is an artsy and thoughtful look at how a family deals with the loss of its patriarch, an experience Harbaugh knows well. Variety Magazine says the film "finds truth in small gestures." Likewise, the way Harbaugh still handles a football like a quarterback speaks volumes about his confidence and the source of the skills that enable the writer/director to give his film a unique look and feel.
"That's the part I'm most proud of," Harbaugh says. "We were very clear about the kinds of ideas we wanted to chase in making the movie, and we got really talented people to chase those ideas. It shows up; the movie's kind of wildly itself."
Wild is an apt description for the path Harbaugh followed to make Love After Love. Harbaugh was the aforementioned quarterback and English major at Wabash when he was forced to deal with his twin brother transferring to another school, being benched, and the emotions that went along with both.
Film became his emotional outlet. "I remember wanting to be provocative," he says. "I didn't want it to be empty, I was kind of angry, and I wanted to express that for lots of reasons. That year, I was just really unhappy and (film) gave me something to obsess over and investigate the world I inhabited."
Harbaugh sees the connections between playing sports and the arts – the expressiveness, performing in front of an audience – but there were limits to each. In hindsight, he feels that dealing with those emotions may have helped his artistic side take the needed place of prominence in his life.
"I definitely remember the experience of playing the game," he says, "but it's limited in the range of emotions you can get at. Art allows a different kind of engagement with the emotional life of me. I really need that."
Much like a quarterback working through a game plan, the director also has to be able to inspire confidence and galvanize a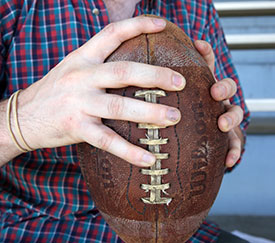 whole group of people around an idea.
"You have to get people excited, especially when you're making low budget movies," Harbaugh says. "You have to get people, not just willing to participate in the act of making the movie, but to problem solve, and to believe. I was on football teams where that happened and that's such a powerful message."
Harbaugh made two films while on campus before graduating, Beside Myself (2005) and Thy Loyal Sons (2006)," that eventually helped him land a spot in the Film MFA program at Columbia University.
With his artistic side flourishing, the quarterback in him did the same. As a senior, he put up one of the finest seasons in Wabash history, setting school records for completions, passing yards, completion percentage, and total offense. The Little Giants rolled through the regular season undefeated and were the top seed in the NCAA Playoffs. It all came to a halt in a 14-11 loss to Capital, a game he remembers vividly.
"The Capital game?" he asks. "I think of the pick first, obviously, because I should have run the ball or taken a knee. We would have kicked a field goal and tied the game. Then there was the ball to Ray Green, a post pattern in the first or second quarter where he was wide open. He had the dude beat and I overthrew him."
It's also memorable for another reason. Harbaugh remembers a postgame conversation with Rich Lehmann '09 that still affects him. Lehmann and Harbaugh always warmed up together and before that game, Lehmann sensed Harbaugh wasn't himself.
"I think about that all the time," Harbaugh says. "That haunts me. Like, I didn't know what the hell he was talking about, but he wasn't wrong."
Lehmann sees it differently. "Remembering something like that really shows how Russ put everything he had into that season, and it became memorable for life," he says. "He battled all through training camp to solidify his spot. I gravitated toward leaders that could be great mentors. Russ was that guy to me.
"I definitely saw the creativity in him, and was blown away by Thy Loyal Sons. He deeply cares about everything he puts his mind to. That willingness to put everything into a goal or project definitely translates. He is an easy guy to follow."
In the dozen years it's taken for Harbaugh to make Love After Love, he's grateful to have found balance in life, which helped steer him through some questions that every 20-something asks – Who am I? What am I? – while also dealing with the end of his football career, separation from his twin brother, and the declining health of his father.
"All those things at the time, did feel very separate, and now they all get whipped up and incorporated into the stuff of me," he says. "Now those parts are able to talk to each other in a way I think will continue to bear fruit in a very positively."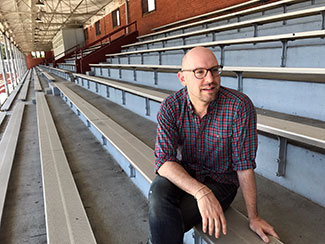 As we wrap in the stadium, he casually steers us to lunch where we continued talking over pizza at one of his old hangouts.
Driving home, I couldn't help but think to the moment, not long after we met, where I'm standing this close to Russ shielding him from an unforgiving July sun with a yoga mat he pulled from the trunk of his mother's car. The same mom who inspired huge parts of the Love After Love story, and the same mom being played on the silver screen by Andie MacDowell.
It's all ok. Sure, the story took more than 10 years to tell. Even though he may have been at times an angry young man on campus searching for an outlet, for balance, it's easy to see that Russ Harbaugh is not that anymore.
"Thank God I found film, because I really needed it," he tells me. "I would have found some area, a kind of a way to release this side of me, but I'm so happy it became film."
Interested in reading more on Russ and his filmmaking efforts? Linked here are a behind the scenes blog on the July conversation and photo shoot, the Wabash Magazine story (see page 90), and a gallery with more thoughts from the writer/director.