Kirby Cox ended his football career with a bang after his two-point conversion gave Wabash the lead it needed to win the 124th Monon Bell Classic, and, boy, was it loud. The fans screaming, his teammates on the field lifting him up, the sidelines going crazy.
Yet, the senior wide receiver was normally one of the quiet ones on the team. He preferred to keep his head down and lead by example. Though he might be a man of few words, we were able to learn more about the Indianapolis native in a recent Q&A session.
Q: How long have you been playing football?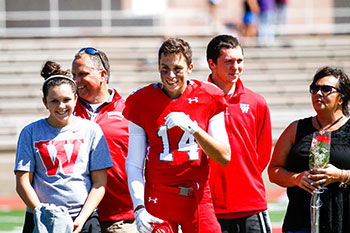 A: Since I was in kindergarten. I really played for my dad at first. I mean, he coached me all the way from kindergarten through eighth grade. He still coaches me now sometimes.
Q: Have you always been a wide receiver?
A: I played both ways in high school. I was a wide receiver on offense and a cornerback on defense. When I came here, they strictly put me on offense, which I'm fine with.
Q: What's your favorite part about playing football?
A: Through high school, it was probably knowing that I was around my friends while making my dad proud too. Here, it's all about brotherhood and the team. Coach Morel says all the time that the name on our jerseys is bigger than ourselves – we're part of a tradition that's been here for more than 100 years.
Q: Do you have a favorite memory from your Wabash football career?
A: Probably my first touchdown. We were playing Wittenberg my sophomore year. It was right before halftime. Connor (Rice '17) rolled out, but it was kind of a broken play. I remember him saying that my eyes were really big. But he threw me the ball, and I just ran as fast as I could toward the end zone.
Q: You're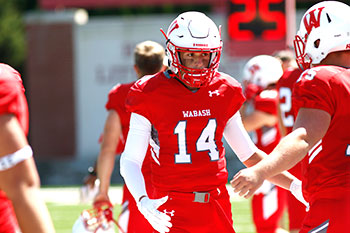 known as one of the leaders on the team, so what is it that you try to impart to your teammates?
A: I'm not much of a vocal person. I tend to keep my head down, work hard and try to lead by example. It's important to get to know everyone. Especially within my position group, we're all really connected. Also having fun while you're out there. We can have long practices that seem to drag on a little bit, so talking and cracking jokes is really important. But when the time is right, you always focus in and get the work done.
Q: You mentioned the Wabash team being a really connected group. Why do you think that is?
A: Wabash is a small school in general, so we see each other on and off the football field. We do a lot of different things together, from class to workouts to just hanging out. But being able to walk across campus to the Fine Arts Center, I'll pass at least 10 guys who will say hi to me. And we're not afraid to reach out to each other either, and that's a really important part of the brotherhood. If one guy falls, we all fall.
Q: What are some of the goals you have for your senior year?
A: Right now, I want to focus on football and make sure everything goes well throughout the season with the team. I'm a member of Sigma Chi, so I want to make sure everything there is run properly and we're able to get all of our 19 pledges through. The end goal of senior year is to be able to say that I know what I'm doing. Whether that's a job or maybe a Fulbright Scholarship. I'm in the process of applying for that. Oh, and, of course, to get the Bell back.
Q: I know it's only the beginning of your senior year, but do you have any idea what career you might want to go into after graduation?
A: I think I want to be a developmental psychologist. I also had a cousin who served in the Marines for 10 years, so officer training school has always been in the back of my head. It'd be really rigorous, but Wabash kind of built this mentality in me that I can take on any challenge. But I'm still not sure. I was always taught to treat others better, so that's always guided my thoughts on what I want to do. I just want to help people in the long-run.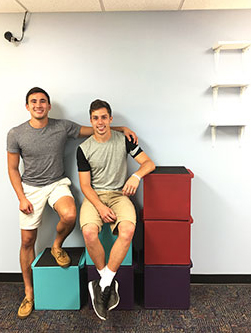 Q: You had an internship with Professor Eric Olofson this summer. Could you tell us a little more about what you were able to do?
A: Basically it was the research side of psychology. He trained us first with the NICHD scales, which are kind of the golden-standard skills for psychology. For the first two weeks, we were coding video, looking at verbally-challenging parent behavior and overprotection. After those two weeks, we went to Ohio State with Professor Olofson and met with Dr. Sarah Schoppe-Sullivan. We were kind of the guinea pigs to try out this new scale they were working on. So they would give it to us, and we would test it out on some of the videos Dr. Schoppe-Sullivan had, and then we'd give feedback, and then they'd change it again. We did that about four or five times. Now they think they have a good scale that they can use for an experiment that we're actually going to conduct here this fall.
Q: What was that like? To play such a large role in up brand new research?
A: It was interesting. We don't have our Ph.D.s yet, so our names are really going to be buried (laughing). But it helped open my eyes regarding what I want to do, and it gave me research experience to go with the hands-on experience I had the previous summer.
Q: What was that?
A: I worked at a behavioral camp for children. They trained us for about three weeks before the children came. It was really eye-opening because they all came from terrible backgrounds, so we tried to give them as much positive reinforcement as we could for the nine days they were there. We tried to teach them a few tricks that they could take back to school so their behavior is a little more controlled.
Q: If you could go back and give advice to your freshman-self, what would you say?
A: I would tell myself that you're going to be able to do things you didn't think you'd be able to do or ever try. There are also going to be things that will confuse you and days you'll have no idea what's going to happen. Just let it play out. Because that's what's kind of happened at Wabash – opportunities have arisen that I never thought I would get.
Q: Okay, now we're going to get to the really tough questions. Are you ready? What's your favorite color?
A: Purple.
Q: Favorite professional team?
A: Minnesota Vikings
Q: Favorite professional player?
A: Xavier Rhodes
Q: Favorite food?
A: Spaghetti
Q: Favorite TV show?
A: Breaking Bad
Q: Favorite movie?
A: Shawshank Redemption
Q: Favorite class?
A: Studio Art: Film and Digital Media
Q: And in honor of the next game, favorite song to get you ready for a game?
A: (laughing) I don't really listen to pump up music. I listen to more relaxing music. But it would probably be Heroes by Peter Gabriel. When it is time to really get focused, though, I watch Ohio State game trailers.