In 2003, six-year-old CJ Ramsey was dwarfed by the Oberlin College football players he stood beside. His dad was the head coach, and CJ loved watching him work. He was at every practice and in the stands at every game, but during one specific game, he was allowed to be on the sidelines.
It happened in an instant. The play started to pick up speed and so did the players – and they were headed right to where CJ stood. Everyone else moved; CJ couldn't take his eyes off the game.
Luckily, one of the players picked him up before he was hit but not before giving everyone – including his dad – quite the scare. After that day, CJ went back to sitting in the stands for about five more years.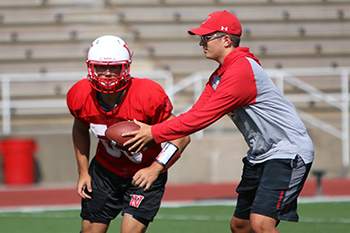 CJ is now a sophomore at Wabash and is back on the sidelines where he's always known he wanted to be. His dad is now Wabash's defensive coordinator, but CJ isn't just watching anymore. He's coaching.
"I've been on my dad's practice field since I was six," he said. "I was always interested in what he did, and I was never very good at football, so I took up coaching because I wanted to be like my dad."
CJ played football through middle school, and there were plenty of pickup games in the backyard with his dad and his brother. But most of what CJ knows about the game comes from a lifetime of watching and learning from his dad, who has been coaching since 1982.
"He lives and breathes football," CJ said, "and that makes being around him just awesome because he has such a love for the game. He's seen a lot, he knows a lot, and he definitely knows how to say it. It's one thing to know what to do, but it's another thing to teach somebody."
CJ's coaching career began when he was a high school freshman, where he was in charge of cornerbacks.
"We had three corners and two were senior all-conference players, so I didn't have to do much," he laughed. "Coaching high school allowed me to realize that college is the place I want to be."
Wabash, though, was never on CJ's radar as a place where he'd want to be.
"My dad coached at Oberlin for so long, that I'd always assumed I'd be going there," CJ said. "I didn't think he'd ever be coaching at a school that I'd learned to not like, to be honest. Wabash was always one of those schools that was always really good. I remember Oberlin beating Wabash once, but, other than that, they had always kicked Oberlin's butts.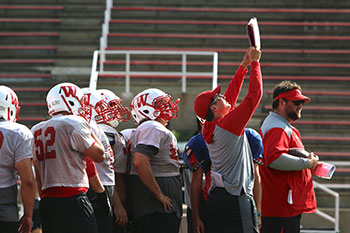 "But obviously, I had no idea what the culture was like here. I was just ready to go wherever my dad went, knowing that I'd fit in somehow. I just didn't think I'd fit in so well."
Each day at practice, CJ coaches players who he lives with, eats with, and has classes with. Some of them are older than he is, and that challenge, CJ believes, has made him a better coach.
"As long as they're playing," he said, "they're going to be coached by somebody. I'm just another guy who knows what they should do who also happens to live with an offensive lineman and a defensive lineman. This experience has helped me realize that you really can't get anywhere if you don't have good relationships with the players. At the end of the day, it's less about coaching and more about building and maintaining positive relationships. It's not letting football overtake the fact that we're people."
Following a father into coaching is a trait that runs in the Ramsey family. Jeff grew up on the sidelines next to his father until he started playing in high school. However, his father died after Jeff's second year as a coach and never really got to experience his son following in his footsteps.
But Jeff is watching his son grow as a coach every day.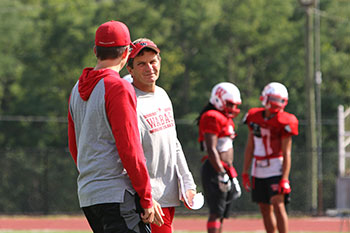 "The happiness that brings to me is more than I ever would have expected, and is beyond my dreams as a parent," Jeff said. "I am so thankful to Coach Morel and Wabash College for giving me this chance that few parents have. I love the moments when I see him connect with a player he is giving one-on-one attention to, and also to watch the joy he has when the players he is coaching succeed. Watching CJ interact with his fellow students is the greatest thing I could ask for."
The one constant for all three generations of Ramsey coaches is the understanding that being a coach is less about telling players how to win a game – it's helping them succeed in life.
"My dad inspired me because he had so much fun, because he talked of the value of helping young men grow as people, and because he talked of the value of helping young men aspire to greater things," Jeff said.
CJ would often listen to Jeff tell stories of all the players who would contact his father to tell him how much he impacted their lives. Now CJ has players come up to him and say the exact same thing about his father.
"You might be able to watch the NFL and say, 'Hey, I coached that guy!" CJ said, "but most Division III players go into the real world, and I think that makes their successes even more important. I want to be a little part of that."