When first-time guests walk into the Museum of Science and Industry at Chicago, their senses are suddenly on overload. The rotunda flashes bright, multi-colored lights and echoes the swirling sound of a tornado. It's simply nothing like they've ever experienced before.
When Marlon Lewis '20 walks into the Museum every day for his summer internship, it's like he's home.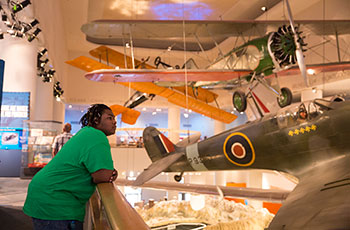 In some ways, he is. Growing up in Chicago, Lewis and his family went to the Museum at least 10 times a year on free admission days.
"It really means a lot to be here," Lewis said. "Being an employee gave me the opportunity to see everything that I couldn't see as a kid. Like my first day, I went to the coal mine, and then the second day, I went to the submarine. It's fulfilling a lot of childhood fantasies by letting me go and visit everything I was never able to, so it's been really wonderful."
As a member of the Wabash Liberal Arts Immersion Program (WLAIP), which is funded by a grant from The Andrew W. Mellon Foundation, Lewis was guaranteed some kind of immersion experience, such as an internship, between his freshman and sophomore year, and he knew exactly where he wanted to be.
"I mentioned it to Dean Jones about two months before school was out, but I couldn't get any information on the museum," Lewis said. "So he called a woman he knows who works at a museum in Kentucky, which is crazy to think about. From Crawfordsville, we reached out to Kentucky to get somebody in Chicago. She gave us some information, and I reached out to them, but I didn't get a response. I let Dean Jones know and he, Jacob Pactor, and Roland Morin got right on it and made phone calls."
After sending over his resume, all that was left to do was wait.
It was Lewis' liberal arts experience that helped him get the internship. Museum staff said it is often difficult to find students who have an eye for design, are able to conduct quality scientific research, and can talk with people easily.
They found the solution to their problem in a Wabash man.
"My love of science drove me to really want to be here," Lewis said. "I've been able to talk and have interactions with people and write reports. I've been able to be creative and express my creativity. That's why I was really striving to be here."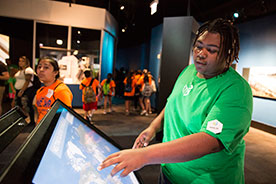 Lewis is currently in the middle of a 10-week internship at the Museum, where he has worked in two different departments. For the first part of the internship, Lewis worked directly with the exhibits. He conducted research for two climate change exhibits, gave input on how to improve and update other exhibits, and interacted with guests to see what they liked and didn't like about certain activities.
Now Lewis is helping in the "Fab Lab," a digital fabrication laboratory full of cutting-edge technology including several 3D printers and laser cutters.
"It's crazy how focused and driven everybody is here," he said. "It's also really cool to see how easily the departments work together but how different it is working with different groups. I've had the opportunity to work with two different teams, which a lot of people who work here don't get to do."
Lewis is hoping to major in both art and rhetoric when he returns to campus in the fall. He was recently named a Wabash Democracy and Public Discourse fellow and will be the treasurer for the Malcolm X Institute.
As for the future, Lewis is only a rising sophomore. But this time at the museum has given him quite a few ideas.
"I've been considering going to graduate school for art, but I really just want to help people," Lewis said. "That's my main goal. I want to take my love for science and my skills in art and rhetoric to communicate with people, advocate for people, and bring light to issues that are often overlooked. I want my pictures to speak 1,000 words and my words to paint 1,000 pictures. That's kind of the saying I have for myself."