CRAWFORDSVILLE—Three-dozen rising high school seniors from six states arrived on the Wabash College campus last Sunday, marking the 45th consecutive year of the Opportunities to Learn About Business Program. OLAB is one of the most highly regarded summer business program targeted at high school students in the United States.

"For decades, OLAB was limited to students from Indiana, but with websites like College Confidential and others, the popularity of the program has grown, particularly out-of-state, which is exciting, OLAB Director Jim Amidon said. "Business is no longer local or even regional; it's global. So, bringing students together from Texas to Florida and all points in between will give them a chance to meet new people and gain new perspectives."
The OLAB schedule in 2017 was once again fast-paced and full of fun, but included significant changes over prior years.
"Even though the formula has worked for over four decades, Game Master Greg Shaheen and I decided to switch up several academic modules to maximize the impact of the classroom work and the business simulation," Amidon said. "In particular, we've moved an exciting workshop on business ethics earlier in the week. We felt that in today's sometimes questionable business world, that our students would be well served to get a dose of ethics right out of the gate."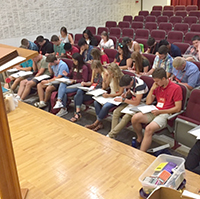 "Labbies," as participants are known, got started immediately with a Sunday afternoon workshop led by Wabash Rhetoric Professor Todd McDorman, before diving headlong into production and marketing games led by Economics Professor Humberto "Bert" Barreto and Shaheen. OLAB and Wabash alumnus Davey Neal lead a workshop on business ethics, and Steve Stapleton gave a guest lecture on the stock market.
When not in class or trying to master the business simulation, students are kept busy during recreation periods led by a strong counseling staff. Counselors included Deans of Students Brittany Craft (12 years of experience) and Seth Gunderman (6 years), along with Kojo Manu (6 years), Caroline Payne (2 years), and first-year counselors Ana Hernandez, Ishaan Sandir, and Noah Spangler. All of the counselors are past OLAB participants.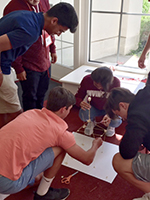 Participants in OLAB were immersed in the study of effective group decision making, speech making, accounting, production, marketing, advertising, and they even negotiated a labor agreement. A crew of labor lawyers, attorneys, bankers, and trust officers, mostly Wabash alumni led by Jon Pactor '71, arrived to teach the students the intricacies of labor negotiations.
"It's a very full week," said Amidon. "We try to instill in the students from day one that they need to pay attention, get involved, have fun, and think both critically and creatively. Those are the keys to success and fun at OLAB. And, of course, they are keys to their success as high school seniors and in the future as they head off to college. Everything we teach in OLAB is applicable to everyday life, whether they enter business or some other academic or professional discipline."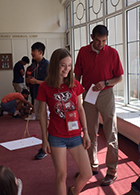 The Goodrich Trust continues to be the anchoring sponsor of the OLAB program. The program also receives significant contributions from the D.J. Angus Scientech Foundation and the Carmel Rotary Club, as well private individuals.
2017 OLAB Participants: Hayley Bazarck, Chicago, IL; Cameron Behr, Evanston, IL; Haddie Broughton-Delong, Chicago, IL; Lindsey Burner, New Market, IN; Ian Cavanaugh, Greenwood, IN; Isaac Cloran, Zionsville, IN; Jacob Cooley, Greenwood, IN; Jarett Downey, Crawfordsville, IN; J.D. Dulin, Carmel, IN; Avery Hess, Crawfordsville, IN; Stephanie Hunt, Morgantown, IN; Will King, Indianapolis, IN; Merritt Lamm, Columbia City, IN; Tania Madariaga, Nashville, TN; Liz Madrigal, Houston, TX; Dulce Martinez, Crawfordsville, IN; Keegan McArdle, Ft. Wayne, IN; Coleman Merrill, Stuart, FL; Emmanuel Morales, Cicero, IN; Kaelan Patel, Dayton, OH; Aaron Pedersen, Round Lake, IL; Katie Quinn, Chicago, IL; Tiara Risby, Beach Park, IL; Kamran Sandu, Dayton, OH; Annie Spangler, Chesterton, IN; Bobby Spech, Carmel, IN; Paris Stirrat, Oak Forest, IL; Jackson Trautman, Carmel, IN; Erti Tushe, Morton Grove, IL; Julia Vanderkolk, Columbus, IN; Nathan Wagner, Greenwood, IN; Frankie Young, Zionsville, IN; Iesha Young, Ft. Wayne, IN; Jerry Zhang, Katy, TX.