For the third time in four years, three Wabash College students have earned Fulbright Scholarships.
Austin Dukes '17 will be an English Teaching Assistant in Spain, Stephan Jones '17 will be Fulbright's first-ever English Teaching Assistant in Honduras, and Alex Waters '16 will be doing medical science research in Norway.
"It has been wonderful to witness a culture of awareness beginning to arise on campus for the Fulbright and other post-graduate fellowship opportunities," said Susan Albrecht, the Graduate Fellowship Advisor at Wabash College. "I find it notable that all three of this year's Fulbright recipients are pre-health (two pre-med and one pre-nursing). I love that these young men do not see a year spent abroad, doing research or teaching and serving as a cultural ambassador, as a derailment of their career goals. All three of them, in fact, are excited for the opportunity to engage deeply with another culture and to bring new experiences and perspective to their future professions."
Dukes,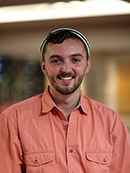 from Kokomo, IN, elected to put medical school on hold for a year to have this experience in La Rioja, Spain. The Spanish major developed a love for working with children while working as a counselor at a camp for children with illnesses, disabilities, and other challenges. Recently, Dukes said he has been strongly influenced through his work at the Montgomery County Free Clinic, where he used his Spanish-speaking abilities to serve as an interpreter between Spanish-speaking patients and the clinic's care providers.
"These two experiences represent the fuels for my two greatest passions: working with children and utilizing my Spanish abilities to assist others," Dukes said. "As I look to continue working with children and expanding my medically-relevant Spanish vocabulary, I cannot imagine a better opportunity to use and improve these skills than the Fulbright ETA program."
Dukes is the philanthropy/house manager for the Beta Theta Pi fraternity. He is a member of the Sphinx Club, Best Buddies, and the Spanish Club. Dukes has also served as English mentor to an underserved student in Spain.
"I feel immensely proud of Austin," Associate Professor of Classics Jeremy Hartnett said. "He embodies so much of what is best about Wabash: he's wicked smart, game for all manner of adventure, generous in using his talents to help others, and utterly devoid of any sense of entitlement. It's hard to imagine a student better prepared for this opportunity, nor one who will bring more to it or receive more from it. Austin leaps into life head-first, and I can't wait to hear his stories from his return to Spain. This investment in Austin and our country's relations with Spain will pay dividends on all fronts for decades."
Jones, a native of Indianapolis, has had a passion for changing perceptions of Americans in Spanish-speaking countries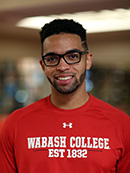 since he studied abroad in Valparaíso, Chile. While he was there, Jones expressed his willingness to speak Spanish, even to Chileans who spoke English.
"I started to think that Americans, especially college students, have a gained a bad reputation," Jones said. "This realization is the reason that I began to think about applying for an ETA Grant in a Spanish-speaking country. I think that immersing myself into the student's culture and showing them my willingness to learn about them and their culture will spark an interest in the United States. I believe that successful immersion into the culture will lead to an organic exchange of culture. One could say that I would become an ambassador of the rich cultural diversity of the United States of America."
Jones, a Spanish major with a minor in English, is a member of the Lambda Chi Alpha fraternity and serves as secretary for the Spanish Club. He is also a member of the Wabash football team and the Malcolm X Institute for Black Studies.
"Stephan is an outstanding student," Professor of Spanish Gilberto Gomez said. "I think he found his groove in the study of Spanish, where he has a great ability and discernment for the details that separates so-so students from Fulbright-level work. I am totally sure he will do very well in Honduras."
Waters, from Troutdale, OR, has been teaching English through the Cultural Ambassadors program in Murcia, Spain, since graduating as a biology major in May 2016.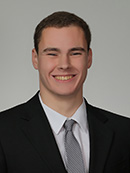 It was during his time studying abroad in Belize that the aspiring orthopedic surgeon decided to take time between graduating and medical school to travel and develop "as a citizen of the world."
"I want to broaden my cultural horizons while also answering my call to help others. I want to learn more about other people, their history, and their traditions. I believe that the Fulbright will provide me with the opportunity to truly make a difference in the health of people living in the country and my own research."
Waters' research involves studying cancer-induced bone disease at the Norwegian University of Science and Technology in Trondheim, which he says will provide him the opportunity to familiarize himself with the area of medicine he plans to study.
"I am thrilled that Alex has been awarded a Fulbright!" Assistant Professor of Chemistry Laura Wysocki said. "As a student, Alex was certainly intelligent, detail-oriented, and able to connect the finer details of the course to the bigger picture. But his maturity, selfless nature, and ability to respond to stressful situations really stood out to me in the classroom and laboratory. Alex takes advantage of every opportunity, so I know it will be a fantastic research and cultural experience that will also allow him to contribute as a fully engaged global citizen in the community he inhabits."
Waters graduated Summa Cum Laude, Phi Beta Kappa, received Distinction on Comps, and was a Mackintosh Fellow. During his time at Wabash, he was the house manager for the Phi Gamma Delta fraternity and was a member of the swim team, Pre-Health Society, Spanish Club, and Tri-Beta Honors Biology Society.
From its inception, the Fulbright Program has fostered relationships in which citizens and governments of other countries work with the U.S. to set joint priorities and shape the program to meet shared needs. The fundamental principle of international partnership remains at the core of the Fulbright mission.
The Fulbright U.S. Student Program is the largest U.S. exchange program offering opportunities for students and young professionals to undertake international graduate study, advanced research, university teaching, and primary and secondary school teaching worldwide. The program currently awards approximately 1,900 grants annually in all fields of study, and operates in more than 140 countries worldwide.
Over the last four years, Wabash has produced 10 Fulbright recipients, a Rhodes Scholar, and seven Gilman winners, another strong indicator of the high caliber of the student body.