"No, the plain answer is no," says Charles Mettler '18 when asked if he ever imagined himself as a botanist.
He had planned on majoring in biochemistry and heading to med school. Three years later the biology major will present his research on tidal ecosystems, a spot now about as far from med school as he could get.
"I don't think I ever wanted to be a doctor," Mettler says. "It was relieving because I had something that I really liked doing that was real, it was science, and the most interesting science I'd ever done."
Therein lies the magic of the Celebration of Student Research, Scholarship, and Creative Work, the event that spotlights the best our campus has to offer across all disciplines – passion like Mettler's repeatedly on display – all in one space. The 17th annual event begins at 1 p.m. in Detchon Center's International Hall.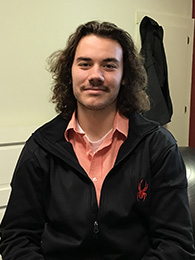 Mettler likes to think about ecosystems and the way energy and elements flow through them. His focus is now on plants.
"The most important organisms in ecosystems are plants, microbes, and fungi," he says. "Those are the biggest players. It is really fascinating on a visceral level that we can understand plants as well as we do ,and we still have so much more to learn about them."
His passion for research led him to an internship last summer at the Smithsonian Environmental Research Center, where his research on estuaries along the eastern seaboard was completed for his presentation, "Warning Effects on Porewater Chemistry and Carbon Flux in Marsh C3 and C4 Communities."
Mettler's work focuses on how climate change might impact tidal marshes. Biology professor Amanda Ingram finds it eye opening.
"What impressed me most is that this is a crucial ecosystem," she says, "and it is meaningful work because understanding what we are in for is huge."
The groundwork for Mettler's change of heart took root in Ingram's General Biology II class, where he got to study plants on a scientific level for the first time.
"I found the environment was way cooler to me," he says. "Dr. Ingram was a real spark to that because I learned about plants for the first time in my life. I never would have predicted it, but I'm glad I got into it."
As he thinks ahead to his oral presentation and boiling down a summer's worth of work into 20 minutes, one gets the sense that he's more than transformed himself into a scientist. He wants to share this knowledge with others.
"It's not about ownership for me," says the Huntington, IN, product. "It's about solidarity in science and academia. For me, it's much more about sharing the knowledge. Science should be collaborative, and it's cool to be able to do that as an undergraduate."
Ingram, too, is looking forward to Friday's Celebration. Not simply because she knows Mettler will be polished and prepared, or that she knows that he has a unique way of looking at the world and often makes unexpected connections. Ingram is looking forward to Friday because she gets to learn from him.
"I love it," she says. "It's exciting because I get to learn from them as they are speaking. That's really rewarding because they do have things to teach me that I don't know about. That's a great feeling."