More Than A Champion
by Christina Franks • December 21, 2016

Share:
His friends joke that he peaked before he was a teenager – and with good reason.
Brock Heffron '19 of Chandler, AZ, has a portfolio of accomplishments most people only dream of, and many of them occurred before he turned 13.
But this Wabash student knows there is so much more he can do and is set out to prove it.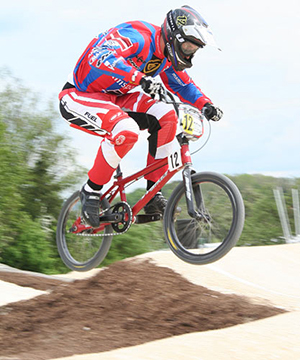 When Brock was eight years old, he fell in love with BMX racing (bicycle motocross) after he and his mother drove by a track and saw someone else racing.
"I was like, 'Mom. I can do that,' Brock said. "So I talked my parents into taking me out there."
He started racing and, in less than a year, Brock was already being trained by French rider Dominic Therrien and sponsored by Redman Bikes.
In 2007, just two years later, Brock won his first world championship in Victoria, British Columbia. But that wasn't even the highlight of the year.
That same year, Brock was chosen as the first ever Sports Illustrated Youth Athlete of the Year, beating out more than 6,000 other applicants.
"My dad got the call," Brock remembered. "We have a disc of all of his voicemails now, and that call is on there. I've listened to it a couple of times, and it is really heartwarming to hear someone talk about you like that."
Brock was flown from Arizona to Indianapolis for a magazine cover photo shoot with another athlete who had just won a pretty big championship of his own: Super Bowl MVP and Indianapolis Colts quarterback Peyton Manning.
"I was only 4-foot-10 at that time, and this guy is huge!" Brock laughed.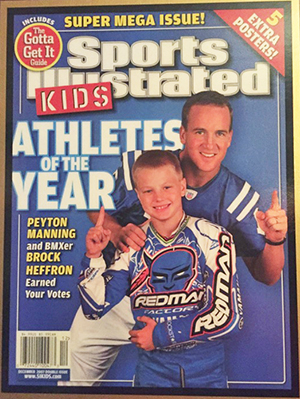 "And he walks in, shakes my hand, and says, 'It's a pleasure to share this award with you Brock.' I had never heard a guy's voice that deep before! It was pretty impressive."
The cover of the magazine, which also featured an article about Brock and his athletic abilities, was unveiled on the CBS Early Show.
"It was quite the experience," Brock said. "My buddies will joke with me and tell me, 'Brock, you peaked when you were 10.' And I don't like to think of it that way. I think it was a great experience, but I just want to keep building on it."
He's done exactly that, winning three more world championships the next two years.
Brock was also playing football and baseball during this entire time. Despite his success in the world of BMX, his love of racing dwindled, and he decided to focus on the other two sports.
"Racing eventually became an Olympic sport, but it wasn't at the time," Brock explained. "It would have been great to have raced in the Olympics, but I was thinking ahead for college. At that time, there were no racing scholarships. Football and baseball would help me get there."
Again, that's exactly what happened. Brock went on to play both sports at Perry High School in Arizona, so well that he was able to remain a multi-sport athlete at the collegiate level.
"Brock is one of the most co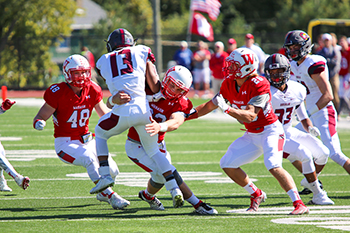 achable guys I have encountered in my 35 years of coaching college football," Wabash Defensive Coordinator Jeff Ramsey said. "Brock brings a great amount of intelligence, savvy, poise, mental and physical toughness, and a great work ethic to our team. His morals, ethical behavior, accountability, and gentlemanly actions make me proud to know him."
When he decided to come to Wabash, he wanted to be known for his character and not his championships. In fact, most of his peers and professors have no clue about his pre-teen accomplishments.
Even Brock's favorite professor, Dr. Dan Rogers, had no idea what Brock had been hiding. To Rogers, Brock was a hard-working, friendly student who sometimes talked a little too much but always had a positive impact on his Spanish classes.
"He's very outgoing, very smart, and he's very extroverted," Rogers said. "He is absolutely one of my favorite students."
It's not that Brock necessarily wants to hide what he has achieved because he has worked extremely hard to accomplish what he has. He simply doesn't want to settle. He wants to prove he can achieve even more without facing predetermined opinions, whether it's on the football field, in the classroom, or with his classmates.
"I like to think I'm just an ordinary guy," Brock said. "I don't go around introducing myself as Brock Heffron, four-time world champion. I want to set the bar with my actions now, not what I did previously. I like that new slate. I'm really going to show you what I can do."