Scarlet Honors: A New Opportunity
by Christina Franks • December 2, 2016

Share:
"It won't be easy, but it will be worth it."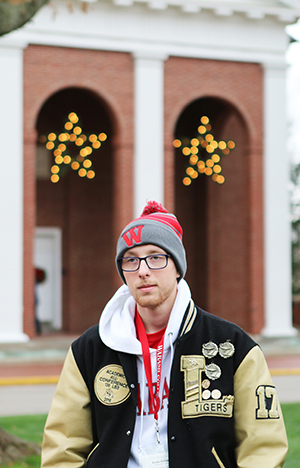 Welcome to Scarlet Honors Weekend.
On Friday, 180 high school students and their families from 15 different states arrived on campus for a college visit unlike any other. For two days, students will be able to participate in classroom discussions, meet Wabash faculty, tour fraternities and residence halls, and experience firsthand what makes Wabash College special in the first ever Scarlet Honors Weekend.
"The goal of the program is to provide prospective students with an experience representative of a typical day of a Wabash student," Associate Dean for Enrollment Chip Timmons said. "The ultimate goal is to help students determine if Wabash is the best fit for them and leave campus on Saturday determined to enroll here in August. I don't know of any other colleges offering this type of visit experience."
Scarlet Honors Weekend is taking the place of Honor Scholarship Weekend, which Wabash hosted in March for 120 years. But after the government changed the date for federal aid applications, the college search timetable moved up three months for families. Changing a longstanding tradition could have presented a lot of obstacles for the College's departments. While it still wasn't easy, Wabash faculty and staff looked at this change as an opportunity to do something truly special.
To make the best impact possible for potential students, the Admissions Office decided to host Scarlet Honors Weekend by blending some of the best ideas from current and past campus visit programs with a few new twists.
One new twist is a classroom discussion. Students were sent a reading, which they had to complete prior to their arrival. Friday afternoon, students were divided into 25 different classes representing almost every department. Each class, led by a faculty member, focused on discussions and interaction, giving prospective students a hands-on opportunity to see what being a Wabash student is like.
"When we first started planning this event, I used one of our old marketing slogans when addressing our staff: 'It won't be easy, but it will be worth it,'" Timmons said. "For the classes, our faculty liaison put out a call for volunteers and the response was overwhelming. We all know Wabash is a special place, but this visit program illustrates how much this community supports one another. It's a busy time of the year for all involved, including the prospective students and their parents, but we all made the adjustments and sacrifices to host what I believe will be a fantastic program."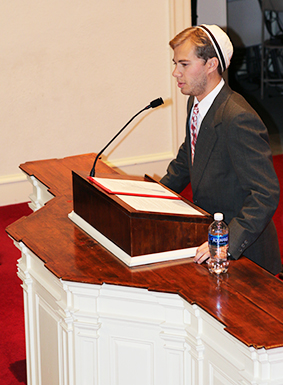 Before they dove too deep into Wabash culture, the prospective students and their parents were welcomed by current Wabash College President Gregory Hess, Student Body President Andrew Powell '17, and Jim Davlin '85, Retired VP of Finance/Treasurer for General Motors.
Each man shared with the students how Wabash College has impacted his own life, the lives of current students and alumni, and how it could impact their lives.
And one of the messages shared was the same one Timmons used to encourage the Admissions Office.
"I had no clue what to expect when I signed my name on that paper and when I came for freshman orientation," Powell said, "other than the fact that Wabash was going to be very, very, very hard. And oh has it lived up to the hype. But what many prospective students don't know is you become a member of the Wabash family within a couple of weeks. And while it hasn't always been perfect, what family is? My biggest reasons to come to Wabash are the lifelong bonds you make over four years with your Wabash brothers."
Wabash. Is it easy? No. Is it worth it? Always.