Impact on the West Bank
by Richard Paige • November 24, 2016

Share:
On the fourth Thursday in November, some 6,300 miles from campus, the Wabash REL 290 class received a gift from their Palestinian counterparts.
They got the gift of awareness. Over the course of a two-hour discussion at Bethlehem University, these 14 men were made aware of the realities of the other side of the Palestinian-Israeli conflict.
"I was extremely thankful to have participated in that discussion," said Aaron Becker '17.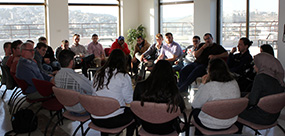 On an immersion trip that has had more than its share of impactful moments, the conversation with seven current students and one recent graduate (six women, two men), might have carried the most weight.
"I don't think there was anything we've done that was more impactful than talking to the Palestinian students at Bethlehem University," said Ben Johnson '18. "Talking to students who experience the oppression and the hardships opened my eyes to hear it straight from their mouths. It's something we really don't pay enough attention to in the U.S."
In a wide ranging conversation, the students talked about big-picture issues like politics, governmental structure, and the perception of the U.S. in the region. However, it was the everyday issues – interests, dealing with checkpoints, social life, resource shortages, and opportunities after college – that had a lasting impact.
Seven of the eight Bethlehem participants live in Palestine, the other lives in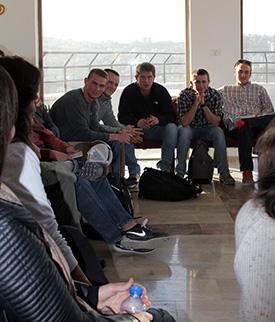 Jerusalem and deals with checkpoints every day. Freedom of movement is an issue. Whether it's an actual wall or the particular color of an ID badge – "There is always uneasiness with checkpoint interruptions," said one. "Just when you think you get used to it, it surprises you." – Palestinians are not allowed to go wherever they wish.
Further, checkpoint interrogations can come without warning and last hours. "Being Palestinian means I'm a second-class citizen," said another.
The fact that these students were of the same age and shared similar interests certainly helped in the cultural exchange and the lasting impact of the message.
"They are in our generation; they are the same age," said Nathan Neal '17. "The way they talk about their lives and the stuff they go through, we've never experienced. It makes you compassionate to the lives they are living. It makes you want to get involved, either politically or from a humanitarian standpoint."
Bethlehem University, opened in 1973, was the first university in Palestine with enrollment of 3,200 (78 percent female). Seventy-five percent of the student body is Muslim and each student much take classes in both Christian and Muslim theology.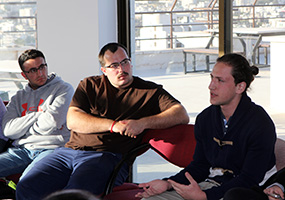 Despite more than four decades of accomplishment, the Bethlehem students said opportunities after graduation are limited to them, citing a 36 percent unemployment rate for recent college graduates. "There aren't many opportunities for graduates even though our degrees are internationally known," said a third student.
Now fully aware of the complications and hardships of the Palestinian-Israeli conflict in such a direct manner, the Wabash students now realize that education, not problem solving, might be essential to their ability to stay engaged and make an individual impact.
Long after the smiles have faded and the social media handles have been exchanged, one question remains.
"The question right in our face is what will we do today?" Becker said. "This is an issue that we can no longer escape. How are we going to be a part of the solution? That's a very difficult question because it is a very complex situation. We're only starting to realize how much of an issue it is. Moving forward and answering the question of what will we do today is going to be difficult, but worthwhile."
More News
---
---
Related
---
Photo Galleries

REL 290 Israel Immersion, 11/24/2016