It's only 30 pages. Most Wabash students could polish off 30 pages of reading between classes. But these 30 pages set the foundation for one of the College's signature events. An event that tests nearly every facet of a liberal arts education.
Those 30 pages – "30 of the most difficult pages you will ever read," said 2016 winner Collin Bell '17 – ultimately determine who can best think on his feet, stand and deliver in front of his peers and a panel of judges, and earn the title of Top Advocate at the 23rd Moot Court finals.
Moot Court gives Wabash men the chance to be a lawyer for a day, arguing a case in front of an appellate court panel of judges who advance participants based on the strength of their arguments within the law.
To say this is a competition might be putting it mildly. It's the liberal arts on steroids.
"Each case requires you to look at a set of information, analyze it and break it down logically," said Tim Livolsi '17. "You do that in all of your classes writing papers, reading difficult material. It all manifests itself when you are looking at these difficult cases."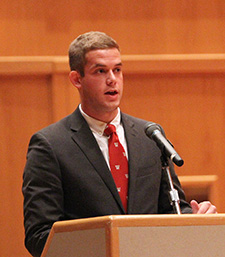 This year's case is no different, as it was based on Trinity Lutheran Church v. Pauley, a case likely to be heard by the Supreme Court in its current term. The case touches on the Free Exercise, Equal Protection, and Establishment Clauses of the Constitution in dealing with the denial of an application of a church to participate in a state program that provide grants for playground improvements.
"Every single skill, every single part of yourself that you bring to this is as essential as the next," said Jacob Roehm '18.
Hon. James M. Carr, Judge, United States Bankruptcy Court, Indianapolis, and Tuesday's head judge, praised the finalists (Bell, Walker Hedgepath '19, Roehm, and Ben Wade '17) in talking about the value that liberal arts bring to the law.
"It really is all about human experience, and I don't think anyone has a better handle on that than liberal arts majors," he said. "It's a great background to do so many things."
Participants are required to argue both sides of the case in front of panels that include professors, lawyers, and judges. The ability to understand all sides of an issue certainly requires the familiarity that only comes with preparation. Every competitor has a different method.
"I put in a lot of time," Livolsi said, a Moot Court veteran. "When I wasn't doing homework, I was looking over the case. I took it to meals, to dinner, I spent a lot of my time doing it."
Wade, last year's champion, takes the opposite approach.
"I prefer the cram method, the night before or two days leading up to the event," he said. "I'm sure Tim's method is a little bit better."
The work pays off in the finals when the nuance of the case has worn off. By that time everyone has read the details countless times, so the arguments aren't necessarily unique. According to Bell, it's at that point where pointed questions from the judges serve as a final test.
"You get torn into – I don't think anyone feels too confident after that," he said. "But the harder the question, the more they're engaging and wanting to know if you really know the stuff or not. Sometimes those tough questions are a good indicator."
No matter the length of preparation, one thing is constant. Moot Court is a grind. Prior to Tuesday's finals, each competitor participated in a preliminary round over four hours last Saturday, dealing with multiple arguments in front of hot panels where the questions come fast and furious, or cold ones where often you are left to rely on the strength of oral arguments and prepared outlines. Either way, it's draining.
"There is not a whole lot else you can do with the rest of your Saturday when you've done Moot Court in the morning," laughed Roehm. "You are standing up in front of people you have a great deal of respect for – professors, alumni, attorneys – and I imagine we have a similar experience to anyone who has gone up before an appeals court. We're dealing with extremely heavy issues, and to deal with them well, you have to put a lot of yourself into it."
The respect Roehm speaks of is mutual. One of the great parts of this event are the 25-30 Wabash alumni from the legal profession who come back and aid in the early rounds as mentors, as well as judges in those preliminaries. It adds up to a very rich and worthwhile experience.
"It's absolutely wonderful that so many alumni are willing to come back and help us with this, and they do a fantastic job," said Roehm. "They bring all of their collective experience to the Moot Court and give us the ability to have an even more rich experience because of it. They are giving back to the College in what I think is more valuable than money."
Wade took a moment to thank the organizing committee that includes professors Todd McDorman, who coordinates the competition, and Scott Himsel, the Pre-Law Society Advisor, and Rick Pitts '83, who compiles the case each year, while Jon Pactor '71 and Seamus Boyce '03 provide essential support. Further, Matt Griffith '89 brought the idea of a Wabash Moot Court back with him from law school and always serves the event as a tutor.
"They give us an opportunity you really can't get at too many other undergraduate institutions," said Wade. "It's such an incredible experience and it wouldn't be possible without those three guys doing the legwork."
Those efforts make for a stimulating competition. Make no mistake, it's a Wabash event, so the competitive juices flow.
"If you put a competition at Wabash people automatically start chomping at the bit," said Bell. "Whether it's free coffee or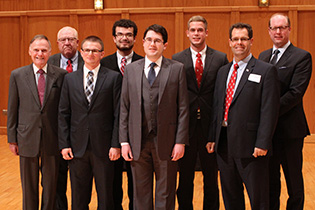 the gavel at the end of Moot Court, Wabash students just strive for it. At the end of the day, it's fun, but we also want to win. We are out there to put our best foot forward, (to show) that we can take any question you are going to throw at us."
Livolsi said that like any good Wabash competition, there is plenty of support within. There is joy in the shared experience.
"Even the people you are going against are willing to help you figure something out, to push each other to better understand the material," he said. "There is a sense of camaraderie and teamwork there."
Moot Court competitions for undergraduate students were virtually unheard of when this event debuted in 1994-95. They were largely the province of law school students. Fittingly, the students and alumni of Wabash have made it their own.
"It's a fantastic experience for students here at Wabash College to get something that no one else really does as an undergraduate," said Roehm. "It's something we do better than anyone else because we're really the only ones that do it."
A Moot Court Podcast
This week's edition of the "Wabash On My Mind" podcast talks with current or former Moot Court participants Collin Bell, Tim Livolsi, Jacob Roehm, and Ben Wade as they take you inside the competition. Just click the red play button inside the the graphic below to enjoy the conversation.