Alumni Pay Tribute to Big Cookie
by Jim Amidon • August 5, 2016

Share:
For decades, Rem Johnston '55 was known to Wabash men as The Big Cookie, but in Northeast Indiana, he was known as father, brother, best friend, and wise counsel.
On Thursday, alumni and friends from all across the country traveled to Fort Wayne to honor Johnston at the first Big Cookie Athletics Spirit Fund Golf Outing.
"It was a great day, Johnston said. "You never know when you touch a life. Nobody ever had a better day than I did today."
Johnston took up golf as a serious hobby about 25 years ago and has played well more than 100 courses across the country. Alumni representing seven decades were on hand to celebrate him, and attendees ranged from his classmate, Tom Hays '55, to Davis Lamm, an entering freshman in the Class of 2020, and included Hall of Fame football coach Stan Parrish.
Trustees Gary Reamey '77, Pete Wilson '83, and Jim Kilbane '85, and former Trustee Kevin Clifford '77 were also there to celebrate their mentor and friend.
Johnston single-handedly led a massive recruitment effort in and around his home in Fort Wayne and in Bluffton, where he owned the Johnston Printing Company. He earned the nickname Big Cookie when he traveled the ahead of Wabash sports teams and placed large cookies made at a Bluffton bakery on every player's hotel room pillow.
"I would just go up before the team would arrive, get all of the hotel keys, and then help the guys find their rooms because it was always late at night when the teams would get in," Johnston said.

He was equally legendary for his clever bumper stickers, which always began with "The Big Cookie says…" Those stickers were printed at his shop and made their way to campus before big football or basketball games. By game day, they covered flat surfaces all across the Wabash campus. Many were bitingly funny. Others were startlingly predictive, including "The Big Cookie says… Flush the Johnnies," which accurately predicted Wabash's 1977 playoff win at St. John's College.
Wilson and event coordinator Ben Wagner '02 had replica "bumper stickers" made for the event, which read: "The Little Giants say… The Big Cookie is Some Little Giant" and "The Little Giants say… Rem and Wabash are #1." David Moss, who began working for Johnston at his printing company in 1970 and now owns the business, printed the cards — just as he did scores of bumper stickers and placards over the years.
"All I can say is that it was great fun working for, or I should say, with Rem over all those years," Moss said. "And I can tell you one thing: not ALL of the bumper stickers made it down to Wabash — some were just a little over the top!"
More than anything, though, the Big Cookie was a relentless admissions recruiter and an equally reliable mentor and friend to generations of Little Giants.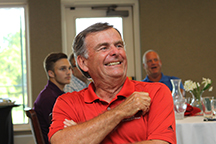 Reamey, Clifford, Parrish, and Hays were among the speakers who paid tribute to the Big Cookie. Parrish playfully referred to Johnston as the football team's "owner."
"We'd beat a team 28-0 or 21-7 and the next week, Rem would roll into town and say, 'Why didn't you score more points?' I'm not sure how many Division III teams have an owner like that?
"I lost to DePauw once in five years and Rem didn't speak to me for three months," Parrish quipped.
In 2015, Johnston established The Big Cookie Athletics Spirit Fund at Wabash, which is an endowment to which any alumnus or friend can contribute. The fund provides resources for fun activities for students, particularly in association with athletic events. Proceeds from the golf outing will go directly to the Big Cookie Fund. For information on how to contribute to it, contact the Advancement Office.
"When I think about Rem Johnston, I think of him in three ways that were important in my life," Clifford said. "I think about him as a great man, a role model and mentor, and a fan… And there have been none better than him, which is why we love him."
Johnston served on the Board of Directors of the National Association of Wabash Men and on the Wabash College Board of Trustees. In 1971, the NAWM celebrated his passion for Wabash by honoring him with the Alumni Award of Merit. He is also a special inductee in the Wabash Athletics Hall of Fame, which he was instrumental in establishing.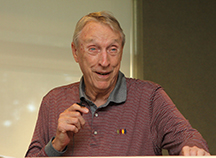 Hays, who served on the Board of Trustees from 1985 through 2011, came to Wabash with Johnston in the fall of 1951. Johnston attended Hays' wedding when he married Sue in 1954, and 50 years later Johnston sent the couple the newspaper clipping that announced the wedding five decades earlier. "What kind of person does that," Hays asked. "Rem does. And he's been my friend all these years."