Jones '87 Returns as Dean
• August 1, 2016

Share:
A man who 30 years ago served as Chairman of the Malcolm X Institute of Black Studies at Wabash College is returning to direct the Institute. Wabash President Gregory Hess announced the appointment of Steven L. Jones, Wabash Class of 1987, as the College's Dean for Professional Development and Director of the MXIBS.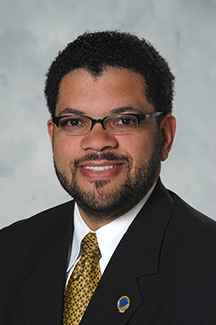 "Steven Jones emerged as the ideal candidate because of his vast professional experience and deep engagement with Wabash," said President Gregory Hess. "He returns home to his alma mater with a proven record of high achievement, and we are confident that he will make an enormous difference in the trajectory of Wabash men now and in the years to come."
Jones, who replaces Alan Hill, comes to Wabash after a 23-year career with IU Health, most recently serving as Vice President of the Adult Academic Health Center, where he led human resource functions for 6,500 team members. He previously served IU Health as Executive Director of Talent Management, Diversity, and HR Leader; Director of Recruitment, Staffing, and Diversity; and Director of Diversity and Inclusion.
"I am humbled to be returning to Wabash College, and I will be mindful of the investment others have poured in me as I begin this new journey," Jones said. "I am delighted to have the opportunity to share my professional experiences with Wabash students who are preparing to lead our local communities and our country."
As Dean for Professional Development, Jones will oversee the activities of the Malcolm X Institute, of which he was an award-winning member during his four years at Wabash. He served as chairman of the Institute as a junior. He will also oversee the activities of the nationally ranked Schroeder Center for Career Development, the Center for Innovation, Business, and Entrepreneurship, and the Wabash Internships and Student Employment program.
"Steven's experience in hiring and developing the workforce for one of Indiana's most respected companies, IU Health, has equipped him to further develop the skills and talents of our students," added President Hess.
Jones majored in economics with an area of concentration in African American Studies while an undergraduate at Wabash. He came to the College from Arsenal Tech High School, and participated in the programs of the Center for Leadership Development (CLD). He is a member of the CLD's Alumni Association and in 2014 was honored with the CLD Distinguished Alumni Award. In 1993 he received one of the state's highest honors, the Sagamore of the Wabash, from Indiana Governor Evan Bayh.
He began his career after Wabash working in circulation for the Indianapolis Star and News before joining the personnel office for the Indiana Department of Transportation. He later spent two years as Director of Minority Affairs with the State Personnel Department before joining Methodist Hospital in human resources.
"I was successful in building solid, long lasting relationships at IU Health," Jones said. "I plan to nurture relationships in the same manner at Wabash College, and build bridges for students during their time at the College and as they go on to do great things after graduation. I am excited to play a role in making Wabash a destination campus; a place where young men in high school know they can attend to achieve their full potential as scholars and leaders."
Jones is a graduate of the Stanley K. Lacy Executive Leadership Program, the Indiana Healthcare Leadership Academy, and was named a Hoosier Fellow at the Randall Tobias Center for Leadership Excellence.
He is the president of the Financial Health Federal Credit Union Board of Directors, and has previously served his community through the Indiana Symphony Society, Circle City Classic, Super Bowl Host Committee, Center for Leadership Development, Indiana Black Expo, and the HR Association of Central Indiana, to name a few.
Jones will begin his service to Wabash in early September.