Lon Porter Claims Teaching Award
by Richard Paige • June 9, 2016

Share:
Lon Porter, a 13-year teaching veteran at Wabash College, received the McLain-McTurnan-Arnold Excellence in Teaching Award, announced at the College's Awards Chapel, the annual honors convocation, in April.
Porter, an Associate Professor of Chemistry, is also the director of the 3D Printing and Fabrication Center (3DPFC) at the liberal arts college in Crawfordsville.
Student centered in all that he does, Porter "brings the lab to life, for our students, for our prospective students, for countless Crawfordsville school children, but most intensely for the dozens of research interns who have begun careers as scientists in his research lab, careers that have continued for many of them at the most prestigious Ph.D. programs in the country," said Dean of the College Scott E. Feller in presenting the prestigious award. "Active learning is the default pedagogy for Lon, from distribution courses to the senior capstone experience."
The Excellence in Teaching Award honors the memories of Reid H. McLain '27, Clair McTurnan '10, and Kent Arnold '29, and has been given annually to a member of the faculty who has distinguished him or herself by innovative and engaging teaching since 1965.
"I feel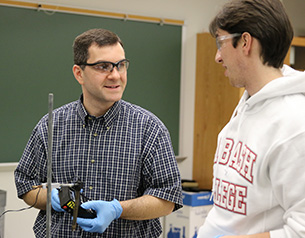 strongly that learning is the foundation of good teaching. I simply love learning new skills and I do my very best to be reflective in thinking critically about the strategies and technologies that assist me as a learner," said Porter. "I also realize that how we learn is very diverse and I value everything I am able to understand from my students when they express what helps them take on challenging work at Wabash."
Porter joined the Wabash faculty in 2003 after completing a bachelor's degree in chemistry at the University of Houston; and a Ph.D. in inorganic chemistry from Purdue University.
Dr. Porter teaches a variety of courses, ranging from introductory and advanced chemistry to freshman tutorial and senior colloquium. In addition to teaching, he enjoys working with students in his research laboratory exploring nanotechnology and inorganic materials chemistry. Together, they develop exotic new materials for electronics fabrication, medical sensors/drug delivery, and other high-tech applications.
"He does not confine his work to the laboratory, he travels annually with our students to professional conferences where they present work collaboratively and immerse themselves in the discipline," said Feller. "A committed student of the liberal arts, Lon has travelled with immersion trips to multiple continents, collaborating with colleagues to bring the humanities and the sciences into conversation."
Aside from his teaching, Porter has published more than 20 research papers and has given more than 60 presentations of his research and scholarship, while earning six grants or research fellowships as well. Further, he is an active reviewer for the Journal of Chemical Education and has chaired and organized multiple national meetings and conferences.
Recently, Porter's efforts have seen the formation and development of the 3DPFC into a creative force on campus. Not only does Porter serve as a mentor to more than 30 student researchers, but the work also spurs new ways of problem solving.
"3D printing has allowed me to strike out on an intellectual adventure into an area of study pretty far from my chemistry background," Porter said. "The liberal arts helps one develop the intellectual depth in an area and the breath of exposure to see and apply that knowledge to problems of a diverse and significant scope. The ways digital design has affected the way I approach problem solving in new ways is also put to use in my more traditional chemistry research and certainly in some of the ways I work to more effectively engage Wabash gentlemen in the classroom, teaching lab, and research efforts."
Porter is the faculty advisor to the campus gaming club, and in his spare time, he enjoys watching films, reading science fiction, and playing video and tabletop games.