Two Faculty Receive Promotions
by Howard W. Hewitt • May 3, 2016

Share:
All thoughts turn to commencement and the upcoming summer vacation when spring blooms on the Wabash Campus. But spring is also an important time for Wabash faculty when tenure decisions and promotions are announced.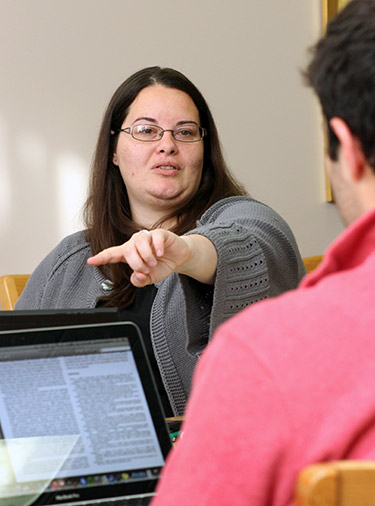 Shamira Gelbman has been awarded tenure and promoted to the level of Associate Professor of Political Science. Associate Professor of Physics Dr. Jim Brown has been promoted to Professor.
Gelbman is a graduate of University of Virginia, and holds a master's and Ph.D. from the University of Virginia.
"Professor Gelbman has established herself as an innovative teacher, a respected scholar, and a deeply committed member of the Wabash community," Dean of the College Scott Feller said. "Shamira engages our students in the field of politics in new and interesting ways, including topical "flash" discussions and social media events.
"She engages students in her scholarship as collaborators so that they are able to experience both the thrill of discovery and the pride associated with presenting this work to colleagues on and off campus."
Gelbman has taught Introduction to American Politics and Government; Congress and the Executive; Political Parties, Elections, and Pressure Groups; State and Local Politics; and Public Opinion in her time at Wabash.
"It's very gratifying to be awarded tenure after just a few years at Wabash," Gelbman said. "Thanks to supportive colleagues and students, I've had many exciting opportunities to pursue new directions in my teaching and scholarship here, and I'm looking forward to continuing this work in the coming years."
The promotion from Associate Professor to Professor is a process initiated by a Department or Division Chair. A letter of recommendation and a portfolio of the candidates' accomplishments in teaching, research, creative work and college service since tenure is among other considerations. Wabash's faculty handbook suggests there is no timetable for a promotion to full Professor but that it is rarely granted to an Associate Professor with less than eight years in rank.
Brown came to Wabash in 2003. He is a graduate of Kalamazoo College and holds a Ph.D. in Physics from the University of Michigan. Brown won the College's highest teaching honor, the McLain-McTurnan-Arnold Excellence in Teaching Award in 2012.

"Jim Brown's record of achievements set the standard for Wabash faculty," Dean Feller said. "Jim maintains a reputation as a demanding and creative teacher, one who pushes students in Freshman Tutorial, in advanced physics courses, and in the interdisciplinary immersion trip on Mayan archeoastronomy. He has served in important leadership roles in the Physics department, across the college, and in the scientific community, for example serving as a Science Policy Fellow at the National Science Foundation and as the Director of MoNA (the Modular Neutron Array) project. He is the author or co-author on 80 peer-reviewed publications, an accomplishment that very few scientists achieve."
Brown is currently on sabbatical at the National Superconducting Cyclotron Laboratory. He is doing research on the nuclear structure of the most neutron-rich nuclei achievable. "Uniquely, in the nuclear physics world, the Modular Neutron Array Collaboration, which I helped to start earlier in my career, is a group of about a dozen researchers from primarily undergraduate colleges," Brown explained. "Students from those colleges, including Wabash, have built two large area neutron detectors weighing over seven tons, and these detectors have been used in dozens of experiments. We have built one of the premier detectors and research programs to understand the limits of stability of nuclei with vastly more neutrons than protons."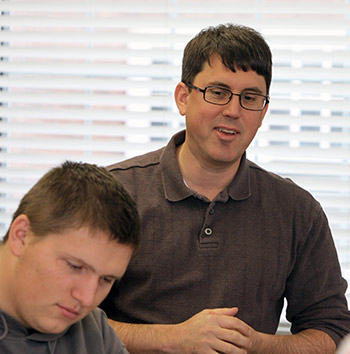 Achieving the title of Professor is satisfying and allows Brown to continue a personal vision of helping Wabash students become better connected to the world they live in.
"I have made my career in helping young people to better understand the world, whether that be the physical world through physics and astronomy, or how the technical and political worlds interact around complex topics like energy, climate change, or nuclear weapons in freshman tutorial," he said "It is a privilege to teach at Wabash and I take this promotion as a recognition of my efforts to help beginning students to become the men they wish to be whether that means to be a physicist, an informed citizen, or to gain a broader understanding of another aspect of our shared human culture."
The appointments become effective July 1.