Chamber Orchestra to Perform Spring Concert
• April 20, 2016

Share: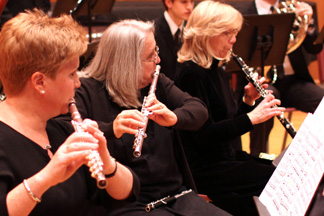 Wabash College's Music Department invites you to a spring concert given by the Chamber Orchestra. The orchestra will present its concert at 7:30 p.m., Sunday, April 24, in Salter Concert Hall in the Fine Arts Center.
Under the direction of Alfred Abel, the program will include W. A. Mozart's, Sinfonia Concertante, and Franz Schubert's, Symphony #9 in C Major, "The Great." Sinfonia Concertante will feature concertmaster, Andrew Sunde, and principal violist, Ian Sunde, as soloists. Widely regarded as one of Mozart's greatest masterpieces, the Sinfonia Concertante is the only concerto that Mozart wrote for viola.
The Chamber Orchestra draws its members not only from the Wabash student body, but also from musicians on the faculty and staff, along with professional and amateur musicians from the surrounding area.
The concert is free and open to the public. Families are encouraged to come and introduce the kids to wonderful and exciting music in a welcoming atmosphere.