Most days something like closing down the mall so an IndyCar two-seater can lap around Center Hall, the Chapel, and Lilly Library would make for a pretty big event. That was only the beginning. The exciting finale to the day was the all-star panel of Indianapolis 500 notables who spoke to students, families, friends, and local racing enthusiasts at "IndyCar & the Liberal Arts", a panel put on by The Bachelor.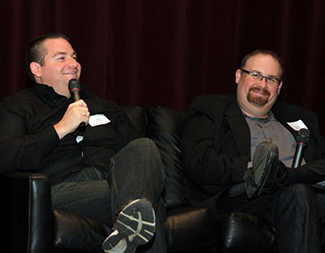 The panel consisted of Mark Miles '76, Hulman & Company President and CEO, Jonathan Byrd '97 and David Byrd '98 of the Jonathan Byrd's Hospitality and Restaurant Group, sponsors of the Dale Coyne Racing Team, the Byrd's driver Conor Daly, a two-time Indianapolis 500 participant, and Curt Cavin (father of Quinn '19), a longtime motorsports writer for The Indianapolis Star. The panel was moderated by Chris Denari '83, longtime Pacers TV announcer and turn four announcer for the Indianapolis Motor Speedway Radio Network. Sunday Denari was inducted into the Indiana Sportswriters and Sports Broadcasters Hall of Fame.
"I think one of the coolest things was that you really don't get these kinds of people that are just chock-full of experiences, with different people they've met and different events they've been a part of," Maxwell Roberts '19 said. "We got a really great first-hand account of what they've done."
Roberts, who like Daly is a graduation of Heritage Christian School in Indianapolis, was the lucky student who won a pair of tickets to the 100th running of the Indianapolis 500 next month.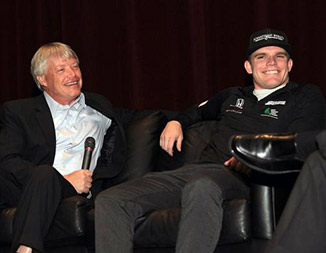 Daly spoke about the entrepreneurship a driver must practice as an IndyCar driver today, the work he must do in securing sponsorship and building and maintaining a brand.
"Oddly enough you spend 95 percent of your racing career out of the car and that's what's the hardest work is trying to find the Byrd Brothers to sponsor you and it's an incredible effort," Daly said. "I say it's the most underestimated sport in terms of behind the scenes. It's been a very zig-zaggy road to get to this point. I basically raced everything you could race until the IndyCar peak and where we are now."
A favorite element for Carson Powell '17 was the discussion of cost-benefit analysis for sponsors like the Byrds when they make a financial investment in racing.
"I've always had a hard time trying to figure out the return-on-investment for a sponsor," Powell said. "To hear directly from the source why they have a vested interest in sponsoring a driver was really interesting."
Jim Nossett '84, a member of the IndyCar medical team said he learned a lot about some racing colleagues, their backgrounds, and how they approach a race weekend, that he hadn't heard before.
"My perspective is focused on drivers and medical and the track activity, crashes and so forth, and it's awesome to hear from the sponsor perspective, the business perspective, (Miles') perspective, and all the experiences that have brought him where he is," Nossett said. "(Daly) is a great young driver, an awesome guy, and I'm excited to hear the energy that he has leading up to the race."
Nossett was one of three special guests recognized at the beginning of the event including two Crawfordsville residents, Bob Jenkins, former voice of the Indianapolis 500 on radio and television as well as public address and Louis "Sonny" Meyer, Jr., former team mechanic and son of three-time Indianapolis 500 winner Louis Meyer (1928, 1933, 1936).

Adam Alexander '16 contributed to this story. Miles photo by Ian Ward '19