Award-Winning Play Returns to Wabash
by Jim Amidon • February 22, 2016

Share:
People in theater like to say, "There are no small parts, only small actors," and perhaps that has never been more the case than in Tom Stoppard's hilarious play, Rosencrantz and Guildenstern are Dead. The Wabash College Theater will perform the absurd play-within-a-play beginning Wednesday with performances nightly at 8 p.m. through Saturday.
For free tickets, contact the box office at boxoffice@wabash.edu or call 765-361-6411.
Freshman Quinn Cavin and sophomore Jared Cottingham play the parts of Rosencrantz and Guilderstern, two bit players from Shakespeare's Hamlet, who take on larger roles — and larger questions — in Stoppard's play
Associate Professor of Theater James Cherry directs the madcap, laugh-out-loud comedy that has Hamlet's lesser players take on existential questions while waiting in the wings.
"I chose this play because I've always loved it — it's an absolute classic of the modern theater," Cherry said. "Stoppard manages to write dialogue that can be both unbelievably funny and unbelievably smart at the same time. And it grapples with complicated philosophical issues in a really appealing way: telling the tale of Hamlet from the perspective of a couple of poor schlubs at the bottom."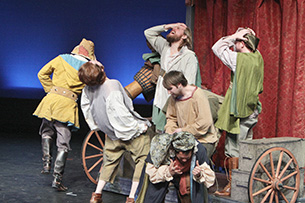 Stoppard's play originated on Broadway in 1967 — winning four Tony Awards — and three years later it premiered at Wabash College.
Sophomore Zachary Anderson plays three roles on stage — Tragedian, Player King, and Fortinbras — and also serves as the play's dramaturge.
Anderson says the play is, "Essentially, plot of Hamlet through the eyes of Rosencrantz and Guildenstern, the least famous characters in that most famous play. Shakespeare's Rosencrantz and Guildenstern are two childhood friends of Hamlet [who are] called upon by Claudius (Hamlet's new stepdad and former uncle) and Gertrude (Hamlet's newly-widowed-and-remarried mother) to assess the source of Hamlet's melancholy. They interrogate Hamlet to little effect and after that, the title of our play is a bit of a spoiler."
While Wabash's production will certainly surface all of Shakespeare's most famous characters (junior Rory Willats plays Hamlet), it is through Rosencrantz and Guilderstern that the weighty topics of Hamlet are explored and examined.
"We're always a little intrigued by how the other half lives, even in fictional narratives," said Cherry. "What does random palace servant #4 think of the deaths of Romeo and Juliet? We know these characters have interiority, because they are played by human beings. So, what are they thinking? In Rosencrantz and Guilderstern, Stoppard affords us a kind of answer."
A big chunk of the play is set in the back of wagon carrying a traveling troupe of tragedians led by The Player (senior Donovan Whitney at his tragic best). James Gross designed the set pieces, while Andrea Bear once again designed costumes and masques for a Shakespearean period.
Most of the actors play multiple parts — members of the traveling troupe, as well as characters from Hamlet. The cast also features Nathan Muah (Alfred/Player Queen/Gertrude), Noah Eppler (Tragedian/Claudius), Brennan Davenport (Tragedian/Guard/Fauxencrantz/Horatio), Griffin Levy (Tragedian/Guard/Fakenstern/Ambassador), Tucker Mark (Tragedian/Soldier/Laertes), Dan McCarthy (Tragedian/Polonius), Methuselah Gee (Tragedian/Prisoner), and Megan Prichard (Ophelia).
The stage manager is D'Aireon Nunn, and senior Tucker Mark designed the lighting and choreographed the fight scenes. The technical crew includes Sean Schlebecker (lighting board operator), Will Maloney (sound board operator), and Jessie Mills (sound designer).
More News
---
---
Photo Galleries

Rosencrantz and Guilderstern Are Dead — at Wabash College