Saturday Afternoon Performance by the Chicago Mass Choir at Wabash College
• February 15, 2016

Share: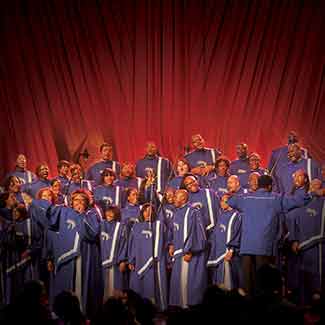 Wabash College's Visiting Artists Series will present the Chicago Mass Choir at 4 p.m., Saturday, February 20, in Salter Concert Hall in the Fine Arts Center.
Chicago Mass Choir is one of the nation's premier gospel choirs. Organized over twenty years ago, the Chicago Mass Choir has its roots in the Ecclesiastes Community Choir founded by James C. Chambers, musical director at Haven of Rest M.B. Church. Since their first recording in 1990, the internationally acclaimed Chicago Mass Choir has grown into one of the strongest and most exciting choirs on the gospel scene. They have been at the top of Billboard's charts, won numerous awards, and have been nominated for multiple Stellar Awards and Grammy Awards with their gimmick-free, straight ahead approach to gospel music. In 1994, Dr. Feranda Williamson took the reins and the choir continues under her leadership. A renowned soloist in her own right, Dr. Williamson also serves as Dean of Undergraduate Studies at Capella University.
The Visiting Artist Series is funded in part by the Tippecanoe Arts Federation, the Indiana Arts Commission, and the National Endowment for the Arts.
Seating for Visiting Artists Series events is by general admission, though free tickets are required.
Contact the Fine Arts Center Box Office by email at boxoffice@wabash.edu; or phone: 765-361-6411. The box office will open 90 minutes before curtain time for Visiting Artists events. Tickets not claimed at the Box Office ten minutes prior to curtain will be released to the waiting list/general public.