Interest Opens Door for Thien '18
by Richard Paige • January 12, 2016

Share:
A knock on an office door, a summer at Los Alamos, and the lead authorship on a published paper of scholarly research.
That would be a good first year in graduate school for some physics students. For Quan Le Thien '18, that summarizes his freshman year, as he is the lead author on "Orientational Ordering, Buckling, and Dynamic Transitions for Vortices Interacting with a Periodic Quasi-One Dimensional Substrate," a paper he wrote with visiting professor Danielle McDermott and two colleagues from the Los Alamos National Laboratory that appeared in Physical Review B, a well-respected, peer-reviewed journal on Jan. 7.
McDermott remembers the visit vividly. "It was the third day of week two at Wabash," she said, "and he came knocking on my door and said, 'I want to be a computational physicist.' I told him, go write a molecular dynamics code and come back to me. He actually did."
McDermott is a condensed matter physicist who studies how colloids form patterns on rippled surfaces, and Thien had an interest in superconductors.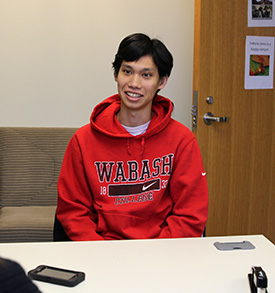 From that initial conversation and the exchange of a few research papers, McDermott realized that their shared research interests could pair well together in the lab.
The research started here on campus last January, writing code and getting it to work. The work hit stride in the spring before it continued at Los Alamos this summer. That summer's worth of work led to a paper submission by Thien this past fall, which was accepted in mid-December.
"It's my first ever scientific work of this magnitude, that's for sure," Thien said. "It's my first paper submitted to a journal. That feels good."
For Thien, the experience was eye opening, especially the experience at Los Alamos. In fact, he made such a positive impact last summer with his research group that he's been invited back this year.
"It's a great experience to work with people who are leading researchers in the field and talk to great people around me," said the native of Ho Chi Minh City, Vietnam. "It's the first time I've done something in science where I didn't know the answer before. To find something new was very cool."
That fortuitous knock led to a productive collaboration.
"There certainly was some serendipity in this, but it really came out of Quan's initiative and his diligence," McDermott said. "This is a student who is very independent and hard-working and has really made this opportunity happen. That's the best part. It's a little luck and a lot of hard work from both of us."
Thien isn't resting on his publishing laurels. In fact, he's already working out the kinks in the code he's written for what will be this summer's Los Alamos research effort.
"There are many great scientists there from around the world who travel there just to give talks," said Thien. "It's quite an experience to hear people in action talk about their own research. I'm excited to be invited back."