Bell, NCAC Title on Line Saturday
by Howard Hewitt • November 12, 2015

Share: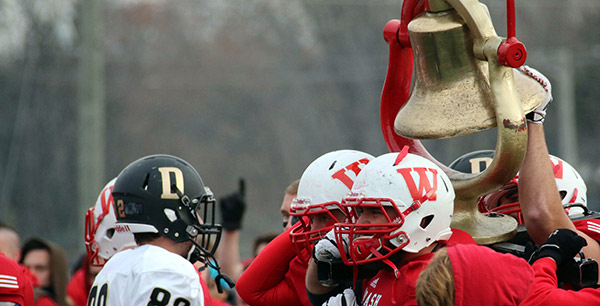 A locomotive bell, a piece of wood, and an extra week of practice are the rewards to either Wabash or DePauw after one wins Saturday's football game.

All three will be the greatest prizes in the world to the victor of the 122nd Monon Bell Classic.

The visiting Little Giants (9-0, 8-0 North Coast Athletic Conference) hold a 59-53-9 advantage through the first 121 games and own a 40-37-6 edge since that locomotive bell was donated as the rivalry trophy in 1932. Wabash is riding a six-game winning streak, which includes a 27-3 win in Crawfordsville last year.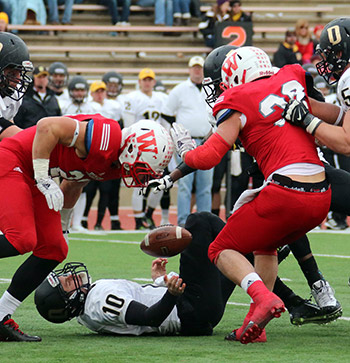 In addition to winning the game and keeping the 300-pound bell until next year's game, the 2015 North Coast Athletic Conference football title is on the line. Wabash already owns a share of the league crown after its win last week over Denison. DePauw can share the title with home win, and would capture the conference's automatic berth in the NCAA Division III tournament, which begins November 21.

Should the Little Giants extend the Bell streak to seven, it would match the longest streak in rivalry set by Wabash from 1921-27. To do so, the Little Giants will have to beat a talented DePauw football team.

The Tigers (8-1, 7-1 NCAC) enter the weekend with a solid offensive attack and strong defense. DePauw ranks 19th in the nation in total offense (498.7 ypg), and 21st in scoring offense (41.8 ppg) while holding teams to 295.9 yards and 14.3 points per game to rank 34th and 18th, respectively.

Junior Matt Hunt has excelled at running the Tigers' offense this season. He's among the national leaders in completion percentage (67.1 percent) on 159-of-237 passing for 2,169 yards. His 24 passing touchdowns rank 20th among DIII quarterbacks. Hunt has only thrown three interceptions. He has also been a threat on the ground, rushing for 467 yards and four scores. Jason Kirchhoff leads the ground attack for DePauw. He has rushed 120 times for 739 yards and nine scores.

Andy Hunt, a freshman wide receiver, has caught 35 passes for 616 yards and six TDs from his older brother, Matt. Jake Hagan has added 29 receptions for 443 and five TDs. Connor Jeffers has 18 catches for 332 yards and four scores.

Will Longthorne has recorded 86 tackles with 56 solos as the top defender for the Tigers. His 14 tackles for losses totaling 47 yards also leads the team. Chris Hawk tops the sacks list with six for 30 yards. Adam Folta owns two of the Tigers' nine interceptions this season.

Mason Zurek has run over, around, and through NCAC defenses once again this season. A First Team All-NCAC pick last year, the senior running back now ranks among the top-five rushers in Wabash history with 1,152 yards this year.

Junior Connor Rice prepares for his first start in a Monon Bell game. He's coming off a career-best effort with 264 passing yards against Ohio Wesleyan two weeks ago and threw for 210 yards and one score in last Saturday's win over Denison. Drake Christen has been a proven target through the air, leading Wabash with 49 receptions for 427 yards and five TDs, while also rushing 11 times for 99 yards. Sammy Adams, Matthew Dickerson Jr., Tom Garrity, and the freshmen duo of Oliver Page and Ryan Thomas provide plenty of targets for Rice.

The Wabash defense has been dominating through nine games. The Little Giants are the top-ranked defense in Division III versus the run, holding teams to 38.9 yards per game and 1.3 yards per carry. Oberlin posted an 80-yard touchdown run for the longest effort by a team against the Little Giants this season. Ohio Wesleyan added another 62-yard scoring run versus the Wabash defense. OWU posted the largest team rushing numbers versus the Little Giants this season with 129 yards on 34 carries. Other than 62-yard run by TraVon Wilkes, no other run by the Battling Bishops went longer than 17 yards in that game. None of the other seven teams Wabash has played to this point of the season has a run longer than 23 yards.

The impressive defensive numbers have been produced through a true team effort. A different Wabash player has led the team in tackles nearly every single week. Austin Brown tops the tackles list with 57, followed by Connor Ludwig with 53. Evan Rutter and Tyler McCullen, the NCAC Defensive Player of the Week, have combined for 22 tackles for losses and 13-1/2 sacks. Brown and sophomore Brian Parks each have four interceptions out of the 17 total for the Little Giants.

Can Tigers maintain a balanced offensive attack against the Wabash defense? Can the Little Giants' ground game produce its gaudy 5.2 yards-per-carry average versus and equally stout DePauw defense? Will a big play be the memorable play from the 122nd meeting between these two teams? Those questions will be answered late in the afternoon Saturday.

Until then, fans can continue to prepare for their game day experience either in Greencastle at Blackstock Stadium, or by watching the game on the national AXS TV broadcast. Fewer than 225 tickets remain on sale for the Wabash side of Blackstock Stadium. Tickets are $20 apiece and will remain on sale through Friday for pickup in the College Bookstore. No arrangements have been finalized regarding will call or onsite purchase Saturday.

Wabash fans planning to tailgate can enter the intramural field lot off of Walnut Street in Greencastle beginning at 9 a.m. in preparation for the 1:07 p.m. kickoff.

AXS TV will cover the Monon Bell Classic for the 10th consecutive season. Go to www.axstv.com/subscribe to find out what channel AXS TV can be viewed on various cable and satellite TV providers. More than 60 alumni viewing parties will take place across the country. Information regarding the locations of those parties can be found on the Wabash College alumni page. The Wabash student radio station, WNDY (91.3 FM) will also broadcast the game Saturday. That broadcast will carried online at www.wabash.edu/live.