Wabash in Talks with Delts
• November 12, 2015

Share:
Wabash College and Delta Tau Delta International Fraternity are advancing discussions to return a chapter back to the Wabash campus. Beta Psi Chapter existed at Wabash from 1872-1879 and continuously from 1894 to 2008.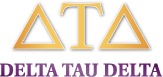 The process for recolonization for students includes a series of informational meetings, interviews, bids, brotherhood activities, and community service, and culminates with formal pledging and a weekend retreat.
Kyle Yarawsky, Director of Growth for the fraternity, will be on campus on Tuesday, November 17. While at Wabash, he will present two informational sessions for students to learn more about Delta Tau Delta.
Jim Dimos '83 and Nick Prihoda '99 will lead the alumni support for the recolonization as co-chairmen of the Alumni Advisory Team. Dimos and Prihoda will coordinate opportunities for alumni engagement in the process in collaboration with the Wabash Dean of Students Office and officials from Delta Tau Delta.
There are more than 200 Beta Psi alumni living within an hour of the Wabash campus, including members of the Wabash faculty and staff, the Board of Trustees, and the Board of Directors of the National Association of Wabash Men.