Faculty and Staff Recognized at Luncheon
by Karen Handley • June 3, 2015

Share:
Forty-two Wabash College employees were saluted recently at the Annual Faculty and Staff Retirement and Recognition Lunch held on the Wabash campus. Employees with 40, 35, 30, 25, 20, 15, and 10 years of service to the College were honored along with recognition of retirements at the College.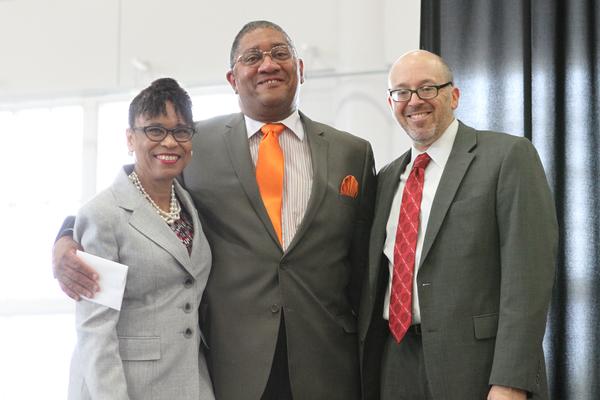 Retirement honorees included Eileen Bowen, Administrative Assistant for the Humanities and Fine Arts; David Clapp, Director of International Students and Off-Campus Studies; Marta Collier, Special Assistant to the Dean for Student Success; Willyerd Collier, Director of the Malcolm X Institute; Richard Dallinger, Professor of Chemistry; Marcus Hudson, Professor of English; Deborah Polley, Interlibrary Loan Manager; and L. David Polley, Professor of Biology.
Recognized for 40 years of service was Rick Sommerville, Sodexo.
Recognized for 35 years of service were Douglas Calisch, Professor of Art; Mike Hoskins, Sodexo; and Warren Rosenberg, Professor of English/John P. Collett Chair in Rhetoric.
Recognized for 30 years were Mike Griffin, Sodexo; Diane Norton, Circulation and Music College Coordinator in Lilly Library and piano instructor; and Esteban Poffald, Associate Professor of Math and Computer Science.
Recognized for 25 years of service were Walter Blake, Senior Associate Director of Admission; Gilberto Gómez, Professor of Spanish; Thomas Stokes, Associate Professor of French; and Bradley Weaver, Director of Information Technology Services.
Recognized for 20 years of service were Susan Albrecht, Media Acquisitions Manger, Lilly Library and Graduate Fellowship Advisor; Jeffrey Beck, User Services and Information Literacy Librarian; Linda Brooks, Textbook Manager, Bookstore; Steve Hester and Frank Stone, Sodexo.
Recognized for 15 years included Rita Arthur, Coordinator of Grants and Publications, Wabash Center; Heather Bazzani, Administrative Assistant, Alumni and Parents Relations; Preston Bost, Director of Institutional Research and Professor of Psychology; J. Douglas Brinkerhoff, Coordinator of Advancement Services; John Frye, Sodexo; James Makubuya, Associate Professor of Music; John Maxwell, Sodexo; Sherry Ross, Senior Administrative Assistant to the Dean of Students; David Troutman, Director of Gift Planning; and Cathy VanArsdall, Controller.
Recognized for 10 years included Liesel Arthur, Bon Appetit; R. Scott Crawford, Director of Schroeder Center for Career Development; Chris Duff, Senior Administrative Assistant to the Dean of the College; Howard Hewitt, Director of Digital Media; Kelly McDorman, Assistant Director for the Center of Inquiry; Lizabeth Pinkerton, Assistant to Director for Project Management and Communications, Center of Inquiry; Jason Rush, Bon Appetit; and Cathy Tinsley, Sodexo.
Pictured: Marta and Willyerd Collier with President Gregory Hess