College Poet to Give Farewell Reading
by Steve Charles • April 29, 2015

Share: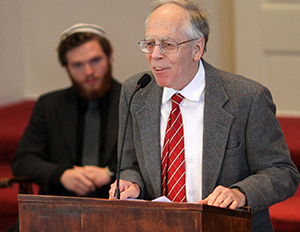 "What is Wabash but friendship and story, the history of a hunger to know."
With those words in 2007, Professor of English Marc Hudson captured the essence of liberal arts education at this College for men. As Hudson prepares to retire this spring after 28 years as the College's poet, medievalist, and creative writing mentor, the College is celebrating his service at Wabash with a farewell reading tonight at 8 p.m. in Salter Hall.
Hudson will be reading from will be reading new work, as well as from his Juniper Prize-winning book Afterlight, Journal for an Injured Son, and The Disappearing Poet Blues. His poems have appeared in Poetry, The Sewanee Review, Poetry Northwest, Poet Lore and many other journals.
The reading is free and open to the public. A reception and book signing will follow.