Wabash College hosts "Soldiers Returning Home: Ancient Greece, the Theater of War, and Veterans Today," a reading and panel discussion of Sophocles' Ajax and the challenges faced by today's soldiers and their families as they come home from war at 7:30 p.m. on Monday, March 30, in Baxter Hall room 101.
The program includes a brief staged reading of the text, remarks from foremost scholar Sheila Murnaghan of the University of Pennsylvania, and an issues discussion featuring Wabash professor emeritus Tobey Herzog H '11, a veteran of the Vietnam War and a Vietnam War literature expert, and Nate Kring '10, a Wabash graduate who has served in the Middle East with the U.S. Army.
"As a very recently medically retired veteran, I was elated to receive an invitation to discuss something that is dear to my heart," said Kring, retired Sgt., 10th Mountain Division Light Infantry. "Being moved around and encountering service members of all different backgrounds, cultures, socioeconomic factors, and religions, I have experienced how each individual person processes, reacts, and adjusts to living through war. Although each service member's experience and outcome is different, one universal truth is clear; no one goes to war and comes home the same. I see this as an opportunity to speak on behalf of my fellow service members."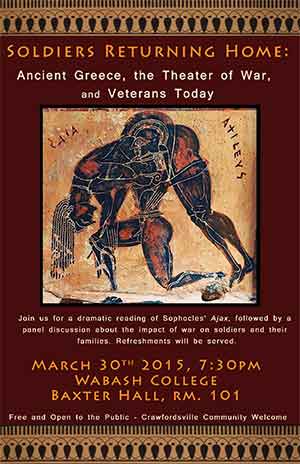 Ajax is an ancient Greek play about the deep effects of psychological trauma on a soldier and his family. It's a story whose themes – valor, honor, anger, and choice vs. fate in the theater of war – are still very relevant today.
The stalwart Greek warrior Ajax fights in the front lines of the Trojan War for 10 years. When his comrade Achilles falls in battle, Ajax defends the corpse and helps to carry him from the battlefield. For all of Ajax's efforts on behalf of the Greeks, he believes that he should be awarded the armor of Achilles, but the Greek leaders give it to another soldier instead. Outraged by this decision as a slight to his honor, Ajax decides to murder the Greek leaders.
Sophocles' play opens with the aftermath of this attempt, as Ajax, his hands still dripping with blood, realizes that he has slaughtered a flock of sheep instead. Wracked with feelings of shame and anger, his thoughts turn to suicide as he and his wife Tecmessa face the reality and consequences of his actions.
"The Greeks were aware of the therapeutic power of art, believing that creating and performing works of art had the potential to heal," said Bronwen Wickkiser, assistant professor of Classics. "The Classics department is interested in creating more opportunities for Wabash to reach out to the Crawfordsville community. Given the popularity of the recent film American Sniper, which pays some attention to the effects of PTSD on a soldier and his family, the time seemed right to bring the Ajax to the table for discussion and reflection."
The dramatic reading of the Ajax will be delivered by Wabash students Clayton Lengerich '15, Joe Mount '15, and Eddie Pingel '15.
"Soldiers Returning Home" is free and open to the public. Wabash College welcomes the attendance and participation of veterans of any foreign conflict, as well as family members. The goal of the program is to open a conversation with veterans and community members on those challenges and how to address them.