Whited '06 Maximizes Education
by Richard Paige • January 14, 2015

Share:
Nine years ago, Billy Whited '06 was putting the finishing touches on a fine arts degree at Wabash.
Six years ago, he was doing the same on a master's in sculpture.
Today, he's in the technology sector, specializing in user interface design.
How did that happen? The liberal arts.
"Once you get your foot in and you've got that knowledge in the liberal arts setting, which is learning how to do something, not knowing much about it, other than having skills of inquiry and self direction, you only need the determination to figure something out," he explained.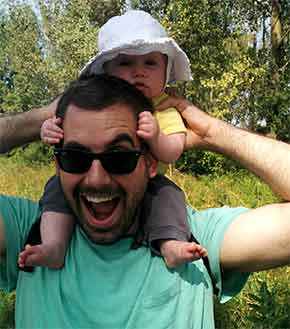 Not that the transition was easy. The sculptor's output in graduate school was conceptual, so it required a lot of storytelling and explanation. Blogging was the best way to get his point across, so Whited built a blog himself, learned front-end technologies like HTML, CSS and JavaScript, and parlayed that into an internship with a Connecticut advertising agency's creative director.
After determining that his career options were stronger in technology back in 2009, he applied for jobs – more than 100 in the northeast alone – and eventually landed a gig with a start-up in Chicago, where as a user interface (UI) designer, he connected strong design with agile software.
He then joined Centro, a Chicago company that produces business-to-business applications in sales, healthcare, legal, advertising, e-commerce, and energy, two years ago. He has been Centro's senior UI designer since October 2013.
"We do big, very complicated corporate interfaces," Whited said. "What I do is web app development. We facilitate getting ads on a web site and allow people to get paid for that inventory. It's not sexy, but the problems that are solved are deep and complicated. I find a lot of interest and satisfaction in that."
While his process is now different – coding over manual manipulation – there is a connection between his background in sculpture and his vocation in app development.
"It comes down to building," said Whited. "Sculpture was three dimensional and app is two-D, but the complexity and the satisfaction of seeing something come to life is very similar. You build something that accomplishes a task."
That duality does not surprise professor of art Doug Calisch, who said that Whited's interests outside of art always influenced his work in the studio.
"He was equally as good at math as he was at art," Calisch said. "His art reflected his interest in other subjects. If Bill learned an amazing thing in a creative writing class, he brought that in and said 'I have to focus on this sentence.' And he'd pick it apart and construct it into something physical."
As a student, Whited was a "brilliant" artist, according to Calisch, creating sculptures that regularly featured movement. Much like his sculptures, Wihted was always in motion as well, creating as many as 15 pieces in a semester.
"He really is something," Calisch said. "The work he did wasn't derivative of anyone, and he really cared about it. "He put his whole self into his work. It was kinetic, there were moving parts and motors -- he created wind by having fans -- but it was very sophisticated."
Whited's work continues to be sophisticated, but it is constrained by functionality or the size of a computer screen. He has found the switch from artist to technician to be a benefit. These new boundaries allow ideas to come more quickly.
"Those constraints have allowed me to embrace design in ways that I thought that I wouldn't as an art student," said the native of Downers Grove, Ill. "Turns out that it's a lot more interesting. I'm solving real problems and addressing real needs.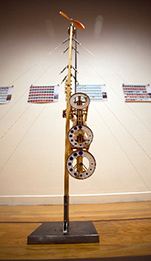 "Design is the great equalizer," he continued. "It can be applied to any sort of problem and can affect people from the richest of the rich to those without the means to gather water, and that kind of universality holds a lot of appeal."
The universality Whited speaks of has its roots in the liberal arts, where he has found a broad base from which to pull solutions.
"Being exposed to different modes of thinking and different fields of study has given me an awareness and a context to put a lot of the pieces together in ways that others aren't able to do right away," Whited said.
Calisch, too, sees a benefit in the faculty-student partnership, one that allowed for plenty of two-way conversations that didn't necessarily center on art.
"We'd spin ideas," he said. "That's what this whole thing is about. I wish there was a way that all of education could be structured that way. He pushed me as a teacher and I valued him for that."
In the end, Whited also addresses the keystone question for many liberal arts students: what am I going to do with that major? Careers change quickly. Intellectual nimbleness can be very helpful, according to Whited, "People end up doing things they never thought they'd end up doing, but somehow find the resources within themselves after having gone through an experience like Wabash to do just about anything."