Jingwei Song '15 dreams big, but his head isn't in the clouds. It's nearly seven miles beneath the sea's surface.
Song has set his sights on becoming a marine biologist, manning a deep-submergence vehicle (DSV), perhaps studying life in the 36,000-foot-deep Mariana Trench. He'll tell you that more people have walked on the moon than have explored the greatest depths of the ocean. Those odds don't intimidate him.
"There is this sense of awe and so much still unknown about the oceans," Song says. "I like the adventure."
"Adventure" is a good word to describe a life that has already taken Song on a journey around the world.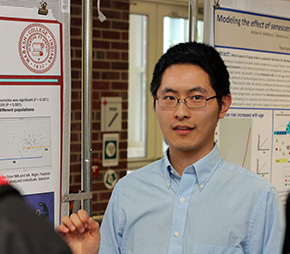 Five years ago he was attending a college fair in his native Shanghai when he crossed paths with Wabash political science professors Melissa Butler and Ethan Hollander, who were teaching there in Sinoway International Education Group's summer school program. Butler felt like Song might be a good fit for Wabash. He was already lined up to study abroad in Oldenburg, Germany, during his junior year of high school.
"He had deep and broad ranging interests," Butler recalls. "He was working on becoming tri-lingual in English, German and Mandarin. He was preparing for a year in Germany and he had a serious interest in life sciences. He wasn't afraid of hard work and he was very organized."
Butler passed the information on to Associate Professor of Biology Amanda Ingram and Associate Professor of German Brian Tucker. They reached out to Song immediately.
He was hooked.
"That really blew my mind," says Song, now a double major in biology and German. "I didn't expect professors to contact me directly. I really liked it."
So much so that, following another meeting with Butler the following summer in Shanghai, Song decided to attend Wabash sight unseen.
"That's really brave," says Ingram, Song's advisor. "It's hard for most of us to go someplace where we don't know anyone or understand the culture, and I admire his willingness to embrace that and learn as much as he can about wherever it is he's going."
Once settled on campus, Song was paired with a local host family to ease his transition to college life. More friends than parents, the host families serve as a resource to answer questions, provide a ride, or a home-cooked meal. Because Song had a working knowledge of German, he was paired with Paul and Jutta Hutson. A German national who emigrated to the U.S. 26 years ago, Jutta and her husband have hosted many Wabash international students and language interns during the last five years.
Jutta's own experience as a newcomer helped to build a bridge between them, and they shared a common language.
"The first two months when you go someplace new and don't know anybody, that's a horrible thing, especially if you're from a different culture," Jutta says. "A host family is something I would have liked when I first came over.
"We knew nothing about China or Jingwei, but we did have the German language in common."
Their strong relationship has benefitted both the Wabash senior and the Hutsons. Song has flourished at Wabash, making friends and contacts that have led him to visit Chicago and New York City. He's taken an immersion trip to Belize and studied abroad in Germany -– actually visiting with Jutta's family in Guntersblum while there. Over the last two summers, Song has researched in labs at Purdue University and in a fishery genetics lab at the Virginia Institute of Marine Science, tracking the populations of fish native to the Eastern Seaboard.
The Hutsons have enjoyed watching a close friend learn and mature in an environment half a world from home. Simple lessons like how to save money while shopping or what to do with leftovers become as memorable as the time they took Song to a local shopping mall so that he could see and participate in "Black Friday."
"He approaches all of those experiences with joy while still learning," says Paul. "He seems to be able to enjoy things while dealing with the tumult of college."
Song has blazed an ambitious path, which should serve him well as he attempts to carve a niche in the field of marine biology from a land-locked institution. His coursework—genetics, cell biology, organismal biology, and ecology – give him both depth and breadth within biology and across its subdisciplines.
"Marine biology is very competitive," says Ingram. "Jingwei has sought out substantive research experiences and takes everything he does very seriously. He asks really interesting questions and has a wonderfully good spirit about him. He's funny and his interest in different cultures and languages will serve him well because the field of marine biology is particularly international."
It seems fitting that Song would pair his interest in biology with a laboratory made of international waters.
"I feel very comfortable going anywhere in the world," he says. "In today's world it's so important to jump outside of your comfort zone. It's almost inevitable that we will have to live and work elsewhere. Wabash has prepared me for that."
And his intellectual curiosity, life experience, and embrace of adventure have prepared him for his dream of exploring the ocean depths. He notes there are only a few nations in the world operating DSVs, and China is among them.
"The Chinese are building a sub that is capable of going 7,000 meters down," Song says. "I could see myself going back to China and getting in that submarine."
Can he get there from here?
"Knowing Jingwei," says Paul, "he probably will."