Hoosier Rivals Open NCAA Playoffs
by Jocelyn Hopkinson '15 • November 20, 2014

Share:
Hoosier supremacy will be on the line Saturday in the first round of the NCAA Division III playoffs when 14th-ranked Wabash College battles in-state school Franklin. Grizzly fans will travel a mere 70 miles northwest to see the game.
"I think with the proximity of the two teams we'll have a really good crowd and that will make for a greater atmosphere," Coach Erik Raeburn said. "I think it will be similar to what it felt like the last time we had a home playoff game."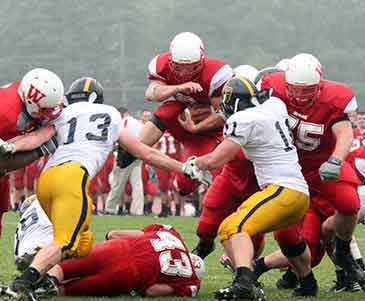 The Little Giants (9-1) won their last home playoff game in an instant classic against North Central. In the two years since, Wabash has missed the postseason. Meanwhile, Franklin (8-2) will return to the postseason for the fifth consecutive year after five straight Heartland Collegiate Athletic Conference championships.
"Since I played in the playoffs before, it's a lot easier to think of this as any other game," senior receiver Houston Hodges said. "I know what it feels like to play at Mount Union and in the North Central game, and it's exciting to know that Saturday could be another one of those great games. There may be a smaller crowd than the Bell game, but it will be just as important."
A strength-versus-strength matchup is the cause of an exciting playoff game this time around. Franklin averaged over 40 points per game this season while the Wabash defense surrendered less than 12. Franklin amassed nearly 480 yards of offense a game. Wabash barely allowed more than 200.
"I think playing Hampden-Sydney with its All-American quarterback and receiver helped us a lot," defensive back Peter Fouts '15 said. "Franklin is going to have the same level of talent. We're a confident group though so I think we'll be alright."
Wabash held Hampden-Sydney's All-American combination of quarterback Nash Nance and receiver Holton Walker to 21 points way back in week one. In week nine, Wittenberg's high-scoring offense only managed one scoring drive longer than 25 yards.
Senior quarterback Grant Welp leads the Grizzly offense with multiple weapons in his arsenal. Welp threw for 31 touchdowns this year to just seven interceptions and over 3,000 yards. He also rushed for a team-high eight touchdowns.
Receivers Johnny Hession and Zach Cole caught 52 and 50 passes, respectively, while Hession had nine receiving touchdowns.

"It will be a challenge for the defensive backs, but we love a good challenge," Fouts said.
The challenges don't end there. Running back Joey Pasquale caught 46 passes. The multi-purpose back will pose a challenge the Wabash defense has rarely faced.
"Their running back is a good runner, but he's also a real threat coming out of the backfield," Raeburn said. "We haven't played very many teams that have as good of a receiver coming out of the backfield. That will be a real challenge for our linebackers because they'll have to cover him or tackle him in the open field."
Fouts might be one of the defenders required to take down the 215-pound Pasquale in the open field. The defensive back will make his second start of the season in place of an injured Justin Woods '16. Fouts will see his first post-season action as he did not dress in the 2011 playoffs.
"Obviously it's a little nerve racking," he said. "But some of those four-year letterman guys are very helpful. I did play in some pretty big games — the Bell and Witt games help going into this."
The NCAA stipulates that teams must dress 58 players in the playoffs. In regular season home games, teams have the luxury to dress as many players as they want.
"You have to make some difficult decisions," Raeburn said. "In some spots, we have to decide if we're going to take the backup at a position or if we're going to take a guy that has been on special teams all year. If you take the guy on special teams and you get a couple of injuries, it can cause you to be unable to get in certain personnel groupings."
Of course, Franklin will face the same difficult decisions too. One defensive player certain to make the trip is linebacker Jeremiah Windell. The junior leads the team with 104 tackles including seven-and-a-half for loss and a pick. As a team, the Grizzlies have 15 interceptions.
"Something that really jumps out at you when you watch the film is that they pick off a lot of passes," Raeburn said. "I think a big key to the defense has been the play of their defensive line. This probably the best line we've faced as a group."
Raeburn also added that Franklin's defensive line occupies blockers which leaves players like Windell free to make tackles.
While the Grizzlies have made plenty of big plays on defense, they've given up their fair share. Opponents scored 26.3 points per game against Franklin and gained over 430 yards of offense as it often found itself in shootouts. Wabash's offense has relied on the more traditional ground-and-pound run game with play action off of it, but Raeburn will have his team ready to win any type of game.
"Well if we get the ball, obviously we want to go up and down the field as much as we can," Raeburn said. "You have to win the game and if that means the game is high scoring, we'll try to do it that way. If points are tougher to come by and we have to try and slug it out, then that's what we'll try to do."
The Little Giants appear to be built better for a slug-it-out contest. Running backs Tyler Holmes '14 and Mason Zurek '16 and the offensive line helped the team gain over 240 yards per game on the ground this season. Holmes finished with 981 yards and nine touchdowns while Zurek had 667 yards and 10 scores.
"We have an identity of working our two hogs in the backfield and we're going to continue to do that," Hodges said. "We think that's one of the strongest parts of our team. Just because they've been good against the run doesn't mean we're going to stop running. We're going to make them prove that they can stop it. It will be a good matchup to watch, but I'm confident in our guys."
The two big running backs and a stifling defense will be the unquestioned key for the Little Giants. Kickoff will be at 12 p.m. from Hollett Little Giant Stadium.