DePauw Stands in Playoffs' Way
by Jocelyn Hopkinson '15 • November 14, 2014

Share:
Wabash's loss at Wittenberg hurt, but a loss to DePauw Saturday in the 121st Monon Bell Classic would be twice as painful. A win, however, would give the 17th-ranked Little Giants a six-game win streak over their rivals, and so much more.

"I don't like to tell our guys 'Don't lose the game,' or 'Don't fumble the ball,'" Coach Erik Raeburn said. "You better want to go out and win the Bell game. You better want to win the Bell. I don't want them to go out there with the mindset of not losing it. We have to be aggressive. I think your best chance to win the game is to play like you haven't won it in five years."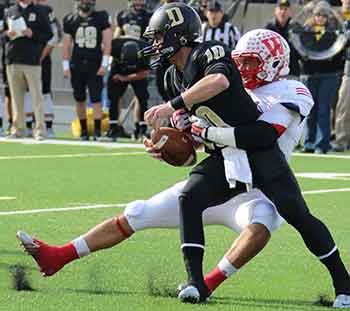 The Little Giants' aggressive mindset could guide them into rare territory. Only twice in the Wabash-DePauw rivalry has a team won six games in a row. Wabash won six in a row from 1949-1954, and set the record with seven straight wins from 1921-1927. DePauw has won five in a row twice.

Saturday's game has important implications in the present as well. A Little Giant victory gives the team a chance to earn an at-large playoff bid. A defeat ends the 2014 season.

"Unfortunately, next week isn't guaranteed to me or any of the seniors," AJ Akinribade said. "We have to make every moment count and not take anything for granted. We want to leave a legacy and make sure people remember us for giving our all."

The senior class is in a familiar position. Last year, Wittenberg handed Wabash its only loss of the season in week nine, and the Little Giants responded the following week with a 38-21 victory in the Bell game. This season, the Tigers from Ohio again dealt Wabash its first defeat.

"It was obviously devastating on Saturday, but we don't have time to feel sorry for ourselves," Raeburn said. "Our guys rallied last season in a similar situation with a great week of practice, but I think DePauw is a better team this year than last. That means we're going to have to put forth a greater effort to get the win."

DePauw's record is certainly improved. After a 4-6 mark a year ago, the Tigers are 7-2 and in third place in the NCAC, just behind Wabash which sits at 8-1.

"Defensively is probably the area they've made the greatest improvement," Raeburn said. "They've done a great job of creating takeaways and are much better against the run. We're going to need a greater effort offensively than this past week."

DePauw is second in rush defense and third in takeaways.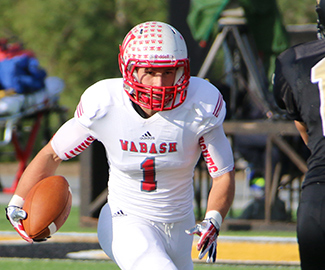 The Little Giants lead the conference in rush defense by a wide margin, but have not turned the ball over as in the past. They are tied for fifth in the NCAC with 13 forced turnovers and only have a turnover margin of plus two.

"We've played well on defense, but we definitely need to be more opportunistic in surrounding the football and getting it back for our offense," Akinribade said. "We're not going to change anything, but we'll have an extra emphasis to have 11 hungry hats on the ball."

Wabash has emphasized and succeeded in the denial of big plays all season. Saturday, the team will face sophomore quarterback Matt Hunt who can make those plays with his arm and feet.

"I think he's particularly good at throwing deep balls," Raeburn said. "He has great touch, but I'd say his biggest attribute is that he's very elusive. They've given up the fewest sacks of any team in the conference — obviously, everybody has a hand in that on the offense, but I think he's the biggest reason why."

Hunt has completed almost 60 percent of his passes and thrown for 16 touchdowns. Freshman receiver Jake Hagan leads the team in receptions (29) while senior tight end J.D. Robinson has provided a good red-zone target as he paces DePauw with five scoring catches.

As it has all season, the Wabash defense will get after the quarterback.

"They have a good offense and are well-balanced," Akinribade said. "I respect them for what they are, but at the end of the day we're going to come out and play Wabash football the way it's meant to be played. If he's getting hit a million times a game, it doesn't matter who the quarterback is. If there's pressure, quarterbacks won't make the best reads and put the ball where they need to."

Offensively, the Little Giants will look for more balance. They ran for 223 yards last week while only throwing for 129 on 11-of-29 passing with an interception. If Wabash has an advantage DePauw has not seen first hand, it's big backs Tyler Holmes and Mason Zurek. Neither ball carrier played in last year's game and will be a load for the Tiger defenders to slow down.

"Last week, we had no success in the passing game throwing the ball outside against their corners," Raeburn said. "That made life really tough. They had eight or nine guys crowding the line of scrimmage. Witt played man-to-man, but we couldn't get loose and it made it almost impossible for us to throw the ball effectively."

DePauw will provide another stiff challenge in the back end. Hamm Hooper and Cody Baker each have three interceptions, and the Tigers lead the conference with 14 picks.

"They have two guys that are taller and have longer arms," Raeburn said. "That's a huge advantage. The longer you are at corner, the better. If you watch those guys from the first game to now, you can see they're gaining confidence and challenging more throws."

While the defensive backs have shown more confidence, it remains to be seen if the team as a whole has confidence against Wabash after five consecutive losses. That question will be answered Saturday. Kickoff will be at 1:07 p.m. in Hollett Little Giant Stadium