Andrew Dettmer '15 watched great students capture the Wabash Moot Court top orator honor. After two previous competitions, Tuesday night was Dettmer's turn.
"The fact I was competing as a freshman against Steve Henke '12, Micheal Carper '13, and Tim Markey '12. Then I competed against Cory Kopitze '14, Alex Robbins '13, and Riley Floyd '13. It makes being the winner of this competition really awesome. These are all people I have known and watched go on to successful careers."
The Wabash Rhetoric Department co-sponsored the 21st annual Moot Court with the Indianapolis Association of Wabash men. Central Indiana area Wabash attorneys acted as judges and mentors to the 30 student advocates.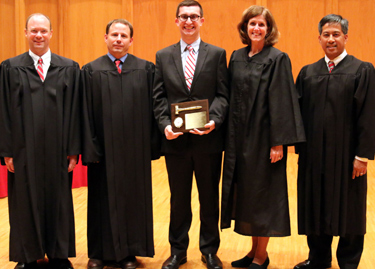 Tuesday night's finalists were Jacob Burnett '15, Daniel Thompson '16, Matthew Binder '16, and Dettmer. The students were presented a case from the headlines re-written for the Moot Court competition. Rick Pitts '83 wrote this year's case involving free speech and social media.
Dettmer said those previous Moot Court experiences prepared him for the challenge of answering questions from some of Indiana's top legal minds.
"Tonight was one of the best final rounds I've been a part of," Dettmer said. "The judges asked great questions and they were listening and engaged. The other side was just as good. I had no idea who was going to win. I think any of us could have so it meant a lot to hear those words that I had finally won."
Judge Jane Magnus-Stinson, the United States District Court for Indiana's Southern District, acted as chief justice. She announced the unanimous decision that Dettmer was the winner but had kind words for all four contestants. She praised the students for trying to stick to the strong points of their argument but told them great lawyers work hardest on the weak points.
Andrew R. Klein, dean of the IU Robert H. McKinney Law School at Indianapolis, came away impressed. "One thing all four of you did very well was going back to your precedents," he said. "And, I want to compliment all of you for the way you listened to our questions."
James Joven, a Marion County Superior Court judge, is a 1989 Wabash graduate. "There were so many terrific points made in your arguments," Joven said. "I know some lawyers who would have a tough time arguing against any of you."
The Wabash representative on the judges' panel was new Dean of the College Scott Feller. The chemistry professor wasn't going to venture into the law but was impressed by what he witnessed. "When I'm sitting with prospective students, and we talk about teaching students to think critically, I'm going to mention this evening."
While the attorneys put in considerable time preparing for the event and pulling off the evening's competition, the basics of Moot Court come from Rhetoric.
"It's really about argumentation and oral advocacy," Wabash Professor of Rhetoric Todd McDorman said. "That's what's at the center of the Moot Court experience. It takes critical thinking and reasoning to understand the legal cases and in the end the students are evaluated for their oral skills and proficiencies as much as their knowledge of the law."
Dettmer prepped with lots of reading and bouncing ideas off fraternity brothers. He also worked closely, and thanked, Professor Scott Himsel for his mentoring.
Dettmer plans to attend law school and pursue a career in litigation.
This edition of the "Wabash On My Mind" podcast talks to Senior Associate Dean of the College and Professor of Rhetoric Todd McDorman, who coordinates the Moot Court competition. He talks about Moot Court, what makes it entertaining, rhetoric's esteemed place on campus, and baseball. Just click the link at the bottom of the graphic to enjoy the conversation.