Whipstitch Sallies Performing Friday Evening
• September 3, 2014

Share: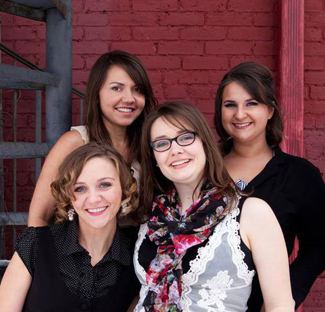 Wabash College's Visiting Artists Series will present The Whipstitch Sallies at 8 p.m., Friday, September 5, in Salter Concert Hall in the Fine Arts Center.
The Indianapolis paper NUVO calls The Whipstitch Sallies "bluegrass rockers with panache." Four women command the stage with their electrifying presence, traditional instruments, and tight harmonies. Allie Burbrink drives the rhythm on open-back banjo and guitar while Kat Erickson holds down the groove on upright bass. Sam Roberts' blistering mandolin licks and Katie Burk's spirited fiddle leads kick up an exuberant racket that's rooted in mountain music but informed by styles from country and jazz to indie rock.
Their 2013 EP Hand 'Em Over was voted Best New Album in the Brown County Music Awards. They have quickly developed a fan base throughout central Indiana and broaden their audience with every show they play.
The Visiting Artist Series is funded in part by the Tippecanoe Arts Federation, the Indiana Arts Commission, and the National Endowment for the Arts.
Seating for Visiting Artists Series events is by general admission, though free tickets are required.
Contact the Fine Arts Center Box Office by email at boxoffice@wabash.edu; or phone: 765-361-6411. The box office will open 90 minutes before curtain time for Visiting Artists events. Tickets not claimed at the Box Office 10 minutes prior to curtain will be released to the general public.