Wabash Mourns Tom Campbell
by Steve Charles • July 18, 2014

Share:
Professor of English Emeritus Tom Campbell—who for 35 years taught Wabash students to hear the voices of Chaucer and John Donne and inspired them to find their own—lost his months-long and courageous battle with cancer Wednesday evening surrounded by family at St. Vincent's Hospice in Indianapolis. He was 72.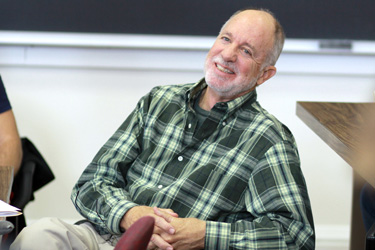 A public memorial service will be held at 10 a.m. next Saturday, July 26, at St. John's Episcopal Church in Crawfordsville. In lieu of flowers, the family requests donations to Wabash College or the charity of your choice.
A Denver, Colorado native, Campbell graduated from Stanford University and earned his doctorate at Indiana University. That PhD program gave him his first taste of teaching.
"I found that I loved it," Campbell recalled in a 2011 interview. "And after the first session the most beautiful girl in the class came up and gave me a book with an inscription in it. I thought, Whoa, maybe this is a profession for me."
Little did he know he'd spend three-and-a-half decades at a college for men.
But Campbell thrived at Wabash. Arriving in 1976 along with Professor Tobey Herzog, he soon made his mark in the English department, developing the College's first linguistics course, introducing courses in science fiction, and redesigning classes in medieval literature.
"College teaching is mostly nurturing and bringing students along," Campbell recalled. "I've often thought of the job as being like a medium. I feel like when I'm reading aloud, that it is Chaucer speaking, not me. If I can present Chaucer in a way that makes him real for students, then I've succeeded. When we're reading John Donne, I want them to feel what he's trying to do and appreciate what he's doing with language. Can they hear that unique voice?"
Campbell helped many Wabash students find their own unique voice through his courses on the personal essay, teaching creative nonfiction long before it gained its current traction as one of the most popular genres. His Wabash mentor, Professor of English Emeritus Don Herring H'84, handed the course over to Campbell, who made it his own. He provided students with workshop experience and a taste of what it means to be part of a community of writers, an essential goal in the department's current creative writing track.
Campbell's love of learning and intellectual agility led him to a wide-range of projects during his academic career. He published monographs and numerous articles and papers on subjects as diverse as liturgical drama, medieval mystery plays, Chaucer, and Shakespeare. In 2005, Campbell refashioned himself into a student of Asian culture, discovering deep connections between European medieval drama and classic Japanese Noh theater.
In 2011, former Dean of the College Gary Phillips said, "Tom can get classes excited about learning the most arcane material, from the great vowel shift to Noh theater to Indo-European language origins. His deep knowledge, his enthusiasm, and hearty laugh draw students into the subject matter. His 1999 LaFollette Lecture entitled 'The Virtual Manuscript: A Medievalist Views the Millennium,' stands as one of the most visually stunning and forward-looking presentations in the series."
Campbell also proved an effective administrator, chairing the English department, the Humanities and Fine Arts Division, and numerous committees, including Minority Concerns. He was a perennial member of the reaccreditation committee and was himself the author of the 2002 North Central Accreditation report.
On his first sabbatical studying medieval music and drama at Indiana University, Campbell met Rose Goldberger, whom he would marry three years later. "The most joyous moment of my life," Campbell recalled. "The woman of my dreams."
He was the proud father of Elizabeth, Joseph, and Scott.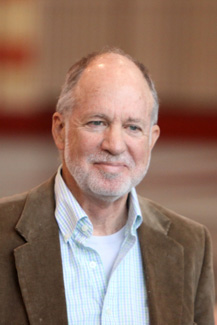 Although Campbell had not heard of Wabash before he applied for his teaching job, he'd find out years later that his great-great-grandfather, Thomas McDonald Patterson, had been a student at Wabash in the Class of 1868.Rose's father, Alex Goldberger, graduated from Wabash in 1925. To recognize these Wabash and journalism connections, Tom and Rose established The Patterson-Goldberger Outstanding Freshman in Journalism Award.
In a retirement tribute to Campbell, Professor of English Warren Rosenberg said, "While Tom will certainly be missed by all in the College community, we, his colleagues in the English department, will perhaps miss him the most. Tom has always had great pride in and affection for the department, giving praise freely and making his colleagues in the department feel appreciated.
"Yet all of us at the College will miss Tom's enthusiasm, his thoughtfulness, and his efforts to make us better at what we do."
During his final Wabash Chapel Talk, Campbell looked out on his faculty colleagues and said, "I never could have made it without you—without your counsel and advice, without your emotional and intellectual support, without your example of unselfish devotion to our students' education."
Then he turned to his students: "I would never have stayed at this college for 35 years without your lust for learning, your desire to know, your willingness to put up with a few of my own idiosyncrasies…"
"A dedicated, inspiring, demanding, and ever-evolving teacher throughout his career, Tom Campbell entered an intimidating English department in 1976 with three tenured full professors, each one commanding legendary if not mythic status on campus," Dean Phillips said. "He has built his own legend."
Read "Tom Campbell: Unexpected Legacy"