Physics of Superheroes on Display Wednesday
by Richard Paige • March 14, 2014

Share:
If you have ever wondered if it is really possible to do some of the things that superheroes do, this is your chance to see the stuff of comic books and Hollywood movies put to the test.
The Wabash College Society of Physics Students (SPS) will present the science behind such superpowers and more in the 2014 Physics Demonstration Show, "The Physics of Superheroes," at 7 p.m. on Wednesday, March 19 in the Fine Art Center's Ball Theater.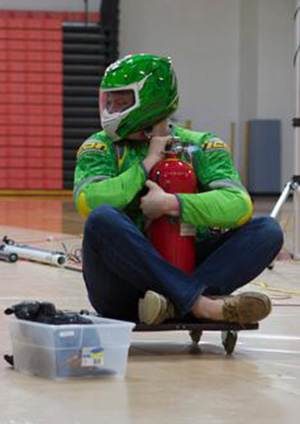 "One of the fun aspects of superheroes is that they can do things that are extraordinary," said Martin Madsen, associate professor of physics and SPS advisor. "The world of physics also has many things that appear extraordinary, yet actually work. One of the best parts of presenting the demo show is that we get to show off some of those extraordinary aspects of nature. I'm excited about this year's show because it connects the superhero world to the real, extraordinary world of physics."
The seventh-annual demonstration addresses the physics behind superpower stalwarts like seeing through solid objects, control lightning, using magnetic powers to move metal, exploding matter with laser beams, and exponentially increasing the size of ordinary items.
Be there for this one-night-only show as comic book pages come to life. Admission is free and open to the public, but seating is limited. The show is generously supported by the Wabash College Student Senate.