Garren '14 Awarded Fulbright
by Richard Paige • March 11, 2014

Share:
Wabash College's Sebastian Garren has earned a Fulbright Scholarship to pursue postgraduate work in educational policy in Finland.
Garren '14, a native of St. Louis, Mo., was awarded the study/research grant and will enroll this fall in the master's degree program in Learning, Learning Environments and Education Systems (LLEES) at the University of Turku in Turku, Finland. Educational policy has long been a focus for Garren and he selected Finland for postgraduate study because it has one of the finest educational systems in the world.
"I've been interested in culture, history and education my whole life," said Garren. "I have been acutely aware that teachers and administrators form the environment around their students through the values they express and the policies they enact. My Fulbright work will explore the values and the rationale of Finnish educators that gives rise to their education policy and their instruction of students."
Garren's post-graduate research on Finnish education centers on three factors: what do administrators, teachers, and students tell each other about goals and rationales; what goals and rationales are simply understood through social cues; and how does this differ from American educational debate?
He hopes to build on Finnish language analysis research, garner first-hand knowledge of the culture and how Finland communicates its educational methods and goals. Further, the LLEES program will help cultivate the skills necessary to become an expert educator, uniquely adept both in the classroom and crafting policy.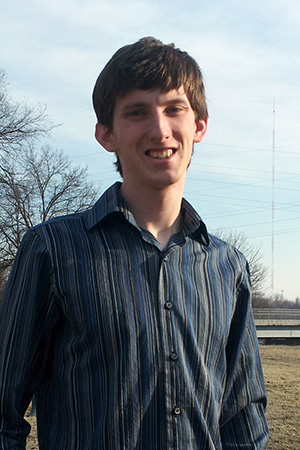 "He has a lifelong interest in the process by which education is delivered," said Dr. Eric Olofson, the Wabash Fulbright Program Advisor and an assistant professor of psychology. "He's interested in building a system of education from the ground up that is in the student's best interest. He's had this remarkable ability to see from the large policy level the big concerns – the concerns about values, about the function of education in society – all the way down to how does a teacher introduce the goals of a single lesson. He has a mature, visionary look at the delivery of education and its role in society."
Studying in the LLEES program also will foster the exchange of culture and insights, and will support work on education culture. The Fulbright award also allows Garren, a Latin major, to meld his liberal arts education, study of different cultures, and a love of language into a one focus.
"Sebastian is an incredibly tenacious student," said Dr. Dan Rogers, associate professor of modern languages and Garren's advisor. "When he sets his mind to something, he just gets it done. I've had very few advisees who were able to face problems and challenges and not let discouragement get in the way of their progress. You can't discourage him."
Eventually, Garren hopes to involve himself in U.S. educational policy, both as an educator and an administrator. Once the Fulbright and two-year course of study are completed, he may seek a doctorate in education or public policy or seek a public school district policy position in his native Midwest.
"He will be a natural in the classroom because he is authentic," said Dr. Jeremy Hartnett, associate professor of classics. "He is a person of strong convictions. He'll do phenomenal things in Finland because he wants to do more. Sebastian is not afraid of the unorthodox path."
In 1945, Senator J. William Fulbright introduced a bill in the United States Congress that called for the use of surplus war property to fund the 'promotion of international good will through the exchange of students in the fields of education, culture, and science.'
From its inception, the Fulbright Program has fostered relationships in which citizens and governments of other countries work with the U.S. to set joint priorities and shape the program to meet shared needs. The fundamental principle of international partnership remains at the core of the Fulbright mission.
The Fulbright U.S. Student Program is the largest U.S. exchange program offering opportunities for students and young professionals to undertake international graduate study, advanced research, university teaching, and primary and secondary school teaching worldwide. The program currently awards approximately 1,900 grants annually in all fields of study, and operates in more than 140 countries worldwide.
Garren is the third Wabash man to earn a Fulbright Scholarship since 2001.