Rusk Inspires Wabash Basketball
by Justin Miller '17 for The Bachelor • February 16, 2014

Share:
"Little Giants" and "Wabash Always Fights." inspire Wabash men. But the same words can be applied to one smaller giant with a fighting spirit.
The Wabash basketball team recently welcomed a new member whose life fully embraces both mottos — Andrew Rusk. A 12-year-old native of Brownsburg, Ind., Andrew battles mitochondrial myopathy.
"Andrew's disease causes muscle weakness, muscle cramping, fatigue, lack of endurance and a poor operating pulmonary and gastrointestinal systems," Karen Rusk, Andrew's mother, said. "Because of his dystrophy, he fatigues so quickly he's never been able to go through a regular school day."
Rusk was united with the basketball team through the organization Team IMPACT. Richard Sword '76 and his daughter, Payson Sword who works for the organization, contacted Basketball Coach Antoine Carpenter to see if the team would be interested in welcoming Rusk.
"[Team IMPACT is] here to match kids with life-threatening and chronic illnesses with college athletic teams," Payson Sword said. "The kind of guys that go to Wabash and the type of community there make it the perfect place for a kid who needs that family and team-based support network and opportunities to have fun and become part of a team."
That was what the basketball team provided Andrew.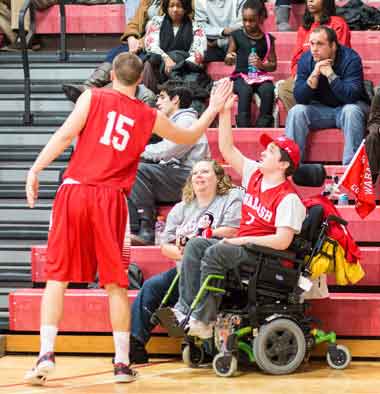 "[Andrew]'s never known what it's like to be part of a school, he's never known what it's like to be part of a team," Karen Rusk said. "So, for him to have guys texting him and saying 'Hey, how are you today? What's going on?' and to talk about video games and boys-stuff is huge for him. That's part of the normalcy of life that we all take advantage of and he has no concept of."
Andrew has not only bonded with the team; he's embraced the spirit of Wabash. "Wabash Always Fights" has become his motto.
"['Wabash Always Fights'] means you keep fighting and fight to win," Andrew said. "You keep fighting no matter what."
Andrew's attitude and vigor have not gone unnoticed.
"It puts it in perspective for everybody on the team just how blessed we are, blessed that we have the opportunity to play basketball at this high level and have our health," Kyle Aiton '17 said. "[Andrew] always has a smile on his face; he's always up beat. Even if we lose, he tells us we played hard and did well. He's just a joy to be around because of his upbeat spirit."
Carpenter sees Andrew's impact in all his players. "They really love the motivation in the words that he gives them to get them prepared for games.
"Coming from a kid that they know struggles on a daily basis, who travels from Brownsburg to Wabash to see them practice or play — the bright spot of his day, it's wonderful and it inspires them."
Indeed, Andrew has a passion for basketball and his fellow Little Giants.
"You can see [Andrew] just wants to be out there with all the guys during our games," Carpenter said. "After our games he congratulates them and tells them good job, win or loss, because the most important thing for him to see is for the guys to have gone out and played hard.
"He always harps on our guys about effort. Wins and losses are great, but he just wants to see those guys to go out, play hard, and compete."
Andrew had never really showed interest in basketball beforehand.
"He had never watched a basketball game, ever, before coming to his first Wabash game," Karen. Rusk said. "And now he is up there telling them 'get the free throw' or 'get the rebound.' He's the one cheering them on. I believe he's got a passion for basketball, a passion for the guys. Those are his guys; that's his team."
Nevertheless, Andrew has embraced both basketball and the team. "It's very special," he said. "I love being part of the basketball team, and it's nice to be with the guys."
Andrew was made an official member of the basketball team Jan. 25 prior to the Oberlin game.
"You could see the spark in Andrew's eyes from being asked to sign an official letter of intent to become an official honorary member of the Wabash basketball program," Carpenter said. "It was a great day. We gave him a Wabash basketball t-shirt, an official jersey — his favorite number is seven, and we just happened to have one that we weren't using that was number seven—a warm-up top, a hat and, to top it off, a signed basketball with all the guys' names on it."
Even before being named an official member, Andrew's impact was great. The season would not have been the same without him being around the basketball team.
"The joy Andrew brings to us when he comes in and gives us our halftime speeches has just made it a real blessing to have him on the team," Aiton said. "We wouldn't have had the upbeat tempo without Andrew because he's that inspiration that a lot of people need in their life. Luckily for us, he has gotten to become part of our team."
Welcome to Wabash, Andrew. As a Little Giant, remember "Wabash Always Fights."