Swim Coach Brent Noble Likes the Wabash College Fit
by Scott Morrison '14 • February 12, 2014

Share:
DePauw, Texas, East Carolina, Sacred Heart, and now Wabash are certainly different institutions at varying NCAA divisions. A list like that is quite the résumé, but during his young coaching career, Head Swimming Coach Brent Noble has not been able to plant any roots with one program. That is, until he found the right fit at Wabash College.
"I talk about finding the fit when I talk to recruits," Noble said. "So I think I should practice what I preach and this is the right fit for me."
Three-and-a-half months into his first year as head coach, Noble and his team are posting top performances and gelling as a unit. The young coach will lead his Little Giants Feb. 13-15 into the NCAC Swim Championships.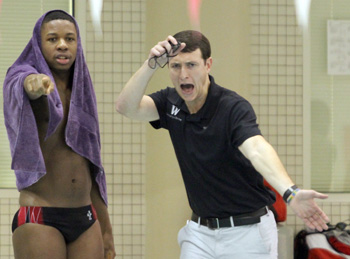 Noble arrived at Wabash for his first day on the job on October 14. That date came three days after the first meet of the season at his former school, Sacred Heart, and two days after Wabash's season opening dual at Denison. Former Head Coach Steve Barnes had stepped down a month earlier and Assistant Coach Logan Simpson had taken the role of interim head coach.
In a matter of days, Noble packed up a U-Haul and travelled across country to Wabash. It was not an ideal situation for Noble or the Wabash College swim team.
Despite the adversity, the team stood true to the motto "Wabash Always Fights," and began the season in stride. "I think that pretty much characterizes a Wabash guy," Noble said.

For freshmen who had been recruited by Barnes, the change was especially poignant. "Coach Barnes had this way about him that I felt drawn to come and swim for him," Joshua McCabe '17 said. "We started preseason, and I saw that he was a very good coach. I enjoyed the way he carried out his job, and I don't think anybody saw it coming. The transition was very difficult. I hadn't known him long, but I felt like I had lost somebody that was really important."
The loss was real, but it was also coupled with excitement as Noble got to campus. "They understood; of course they were disappointed they were losing their coach, but they understood that it is what he needed to do for himself and it's what he wanted to do," Noble said. "There was a lot of excitement coming into a new regime. They were excited to have a fresh face, new ideas, and new things going on. So we were kind of able to ride that wave a little bit."
That wave is nothing new for Noble who has never been at one coaching stop for more than a year. "I have done a lot of bouncing around trying to find that perfect fit in coaching," Noble said. "I think I have. I am here for the long haul finally. I have been in new places every year so I have never coached without that new excitement. It's something I have developed a knack for, and so it's really easy and nice to ride that wave of the fresh, new excitement. The guys certainly had that, and it's been a lot of fun up through the last three and a half months now."
The constant transitions have meant a lot for Noble. He has never coached his own recruits for more than a month. He has never been able to build long term bonds with players and other coaches, and he has never been able to see success grow. Ben Briggs '17, despite being a freshman, has been able to see a lot of Noble's growth as a coach more than any other swimmer.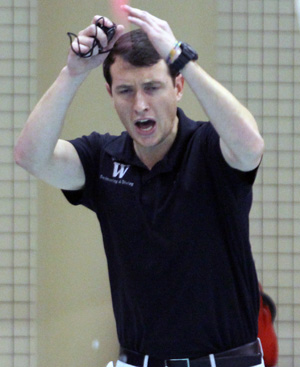 "He actually coached at my high school as an assistant coach my freshman year, and it's no real stretch to say he's the most accomplished coach of his age anywhere in the country," Briggs said. "His career progression over the past several years has been exceptional."
Noble can now call Wabash a more permanent stop on his hectic coaching career. "Obviously there are a lot of similarities between Wabash and DePauw," Noble said. "But I came up here for swim meets supposed to hate everything that happened here and I loved it; I thought it was pretty cool. I liked the quirks, the traditions, and the things that were different at Wabash. I knew that Wabash was a place I could see myself."
DePauw had given Noble a taste of Division III and the liberal arts, and despite the initial draw he felt to Wabash, he didn't initially apply when the job became available. "I wanted to stay in Connecticut and keep building," Noble said. "I wanted that to be the job that I was going to stick with for a while. But I knew I would regret not at least trying, so I applied. As I went through [the process] it was a perfect fit."
That fit is something he shares with current players and something he can communicate to his first crop of Wabash recruits. "I believe in what Wabash stands for," Noble said. "I believe that Wabash is the perfect place for a lot of people who wouldn't give it the chance like me when I was 18. That really means a lot to the recruiting process. It already is making recruiting a lot easier for me both from an internal perspective but also in terms of just finding recruits and convincing them to come here because I think they can feel that sincerity."
Noble and his team have navigated the tricky waters of his first season. Swimmers have recorded some of their career best times, and the team is looking to make a splash at conference. Noble has brought an excitement and energy to the team that might help carry it to the next level.
"I would say that Coach Noble is more energetic and outgoing," McCabe said. "We'll be standing on the pool deck, and he will be yelling at us to get going and get pumped up. At the meets he is even a lot more energetic and he feels like a friend. We have that friendship bond that we can talk to each other about anything."
The NCAC championships are February 13-15, and despite the fact that they mark the close of the season for most swimmers, Noble and the swim team are just beginning to do big things.
"When I applied for this job I was very clear that I want to win a national championship here," Noble said. "It's not going to happen next year or this year, but we want to get closer and closer every year, and that is something that I say not just blowing smoke or trying to impress people. We want to be moving and growing every year and that fits the kind of guys that I am coaching. Guys who come and swim at Wabash aren't guys who want to get fourth every single year at the NCAC meet."